Rand Paul and Cory Booker Are Joining Forces to Tackle One of America's Biggest Problems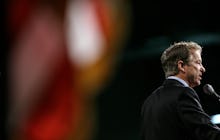 The news: Since becoming Twitter pals last December, freshmen senators Cory Booker (D-N.J.) and Rand Paul (R-Ky.) have repeatedly vowed to work together and end the so-called "war on drugs." After much speculation, the lawmakers have finally unveiled an important first step in achieving that goal: a massive overhaul of the American criminal justice system.
On Tuesday, Booker and Paul introduced the REDEEM Act, which mostly focuses on sealing or expunging the records of juvenile and nonviolent offenders and restoring their welfare benefits. The ultimate goal is rehabilitating these individuals instead of continually resorting to mass incarceration, the senators said.
"The biggest impediment to civil rights and employment in our country is a criminal record. Our current system is broken and has trapped tens of thousands of young men and women in a cycle of poverty and incarceration," Paul said in a statement.
Booker agreed. The legislation "will ensure that our tax dollars are being used in smarter, more productive ways. It will also establish much-needed sensible reforms that keep kids out of the adult correctional system, protect their privacy so a youthful mistake can remain a youthful mistake, and help make it less likely that low-level adult offenders re-offend," he added.
This is part of a bigger plan. Both Booker and Paul have publicly called for reforms of drug sentencing laws and an end to mass incarceration for nonviolent offenders.
The two unlikely partners memorably connected on Twitter last December, when Paul jokingly complained during his Festivus grievances that Booker does not retweet him enough. They then spontaneously pledged to "take on the failed war on drugs," an issue that has been important to both their campaigns.
Since then, "Senate's new bromance" has introduced an amendment to the Senate spending bill that would ban the Justice Department from cracking down on people who use medical marijuana in states where it is legal under local law. The House already passed its own version of the amendment in May, while the Senate appropriations bill is still waiting to come up for a vote.
Paul has also introduced legislation that will restore voting rights to nonviolent felons in federal elections and is working on reforms to help nonviolent offenders seek employment.
Bipartisanship looks good on everyone. In what has been an historically unproductive Congress, Booker and Rand's effort to reach across the aisle is a standout moment for both first-term senators. "I will work with anyone, from any party, to make a difference for the people of New Jersey and this bipartisan legislation does just that," Booker said in his statement — that's an attitude the older legislators can learn from.
The newly-formed dynamic duo has hinted at tackling economic freedom zones next, although if that doesn't work out, they can always fall back on bonding over music: