A Government Study Uncovered a Surprising Truth About Colorado's Marijuana Industry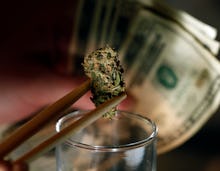 The news: Colorado's marijuana rollout has resulted in an extensive post-legalization market study, the first of its kind in the world. On Wednesday, the state's pot regulators released results from the first three months of legal medical and recreational marijuana sales — and what they discovered was pretty incredible.
The report found that the demand for weed was "much larger than previously estimated," and that's an understatement. The study estimated market demand for marijuana in Colorado to be 130 metric tons a year: that's 121 metric tons for residents and 9 metric tons for tourists, and about a third than the projections by the state Department of Revenue.
Other findings: The study also discovered that the average price of marijuana in Colorado is $220 per ounce and that heavy daily users make up the majority of consumers. Medical marijuana was also much more popular than recreational marijuana, which has higher taxes.
"Therefore, the retail demand is derived primarily from out-of-state visitors and from consumers who previously purchased" illegal weed, the study concluded.
There is a lot of money at stake here. Colorado Governor John Hickenlooper has described the state's pot legalization as "one of the great social experiments of the 21st century," and he is not exaggerating. The drug is expected to generate $1 billion in sales and $100 million in state revenue by the end of this fiscal year, which will be used to build schools and fund drug rehabilitation programs.
Washington seems to expect similar benefits: The state launched its legal weed industry on Wednesday, with dispensaries' average first day retail sales already beating out Colorado's. While Washington may have some trouble keeping up with the high demand, newly launched business will bring in a substantial amount of money for the state coffers.
It's clear that legalization of recreational marijuana is even more popular than state authorities in Colorado and Washington had anticipated and they are trying to capitalize on it. There's a lot of potential for other states too: Estimates indicate that nationwide legalization could bring in anywhere between $10 billion to over $120 billion every year.
Colorado and Washington's fledgling marijuana industries are just getting their foothold and it will still take some time before market supply and demand stabilize. But for now, Colorado's stats indicate that demand remains exceedingly high — and the state's great experiment might be paying off after all.