The First Guy to Buy Legal Marijuana in Spokane, Washington Is Just Perfect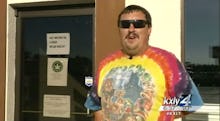 Recreational marijuana went on sale in Washington state Tuesday, and at least one Spokane man wanted to make it an event to remember.
Mike Boyer camped out for 19 hours in front of Spokane's only dispensary to make sure he'd be the first in town to get legal weed. The local news station interviewed him and he — well, he's pretty much exactly what you're picturing. Take a look:
The tie-dye shirt! The 'stache! The chill demeanor! It's as if the very concept of legal recreational marijuana manifested itself physically.
The bad news: There's no way around it — Boyer lost his job thanks to the stunt. He worked as a security guard, but a client saw him on the news and tattled to his company. He took it like a champ, though.
"Yeah, it was kind of a buzzkill," he told Vocativ. "But I wasn't going to let it ruin an awesome day."
Still, a job's a job, and Boyer is hoping to turn his newfound fame into a new employment opportunity (maybe somewhere with a lenient drug policy). He put his resume up in a Craigslist post with the title "LOST MY JOB! still #1 tho!!"
As for the rest of the state: The legalization starts slow, with only a few stores around the state open for business on Tuesday. Licensed marijuana growers, who have to be in-state, have not yet had the opportunity to grow a full crop.
Whether the recreational product will succeed is still up in the air. Customers told the New York Times they were only buying for the sentimental value, since medical marijuana (and illegal marijuana) is cheaper and relatively easy to obtain. The state levies a 25% tax on every purchase.
Those high prices didn't stop a store in Bellingham from selling more than $30,000 worth of weed in its first day, beating out the average sales in Colorado, the only other state to legalize the drug recreationally. Colorado is expecting $1 billion in sales over the next fiscal year, meaning $134 million in taxes and fees for the state.
Image Credit: Colorado budget proposal
It's still a little early for similar predictions for Washington, meaning  individual buyers like Boyer have become the story. After entertaining onlookers with chants of, "What do we want? Marijuana. When do we want it? 2 p.m.," he made his purchase. The plan from there?