John Legend's New Video With Laverne Cox Shows There's No One Way to Be Beautiful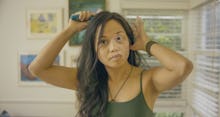 It's one thing when Dove makes a video about "real beauty" to sell women more beauty products they don't need, but it's a whole different game when John Legend, king of the love song, and Laverne Cox, groundbreaking trans actress, make one together.
Legend's video for his song "You and I" is a bold statement against the conventional beauty standards promoted by the typical R&B narrative — the one in which a ripped man meets an attractive young woman "with a booty" and wins her heart over the course of a couple of key changes. "You and I" subverts that narrow trope by instead featuring women of all ages, shapes, colors and sizes. It reminds everyone that love is about two people and their feelings — not two people and what society says is sexy.
This video is powerful given the current climate of American culture's body image issues. Our unrealistic definitions of beauty — often perpetuated by increasingly outrageous photoshop jobs — is detrimental to both men and women. That women have to be thin and absurdly proportioned also often sends a message to women that they must be unhealthy in order to be beautiful. Such messages may contribute to rising rates of eating disorders and decreased levels of reported body satisfaction.
The inclusion of Laverne Cox is also significant. Cox recently became the first trans actress to be nominated for an Emmy, and through her growing presence in pop culture, she's steadily reversing the heteronormative culture behind so many damaging ideas about love. Messages supporting the LGBT community have cropped up in major pop videos before, most notably in Lady Gaga's, but they have always been othered or singled out. In John Legend's "You and I," Cox appears in an everyday context, taking off her makeup in a mirror — no different than any other woman, as it should be.
That's why it matters when an artist like Legend — someone who regularly reaches millions with songs about love — makes a video like this. When he sings about the real ways real people are beautiful, everybody listens. It's time they heard that they were alright.