LeBron James Is Coming Back to Cleveland. Now What?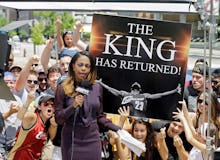 The wait is finally over.
LeBron James said Friday he will return to Cleveland on what's assumed to be max contract: a four-year deal worth roughly $88 million.
James' open letter, as told to SI.com's Lee Jenkins, hits on a wide range of topics including his decision to leave Cleveland for Miami in 2010, the fallout from the "Decision" and the excitement of returning home.
Here's a quick look at what it means for the four-time NBA Most Valuable Player moving forward.
The announcement
It couldn't have gotten worse than the televised gut-punch from the infamous "The Decision" special on ESPN. In Friday's pointed and thoughtful first-person essay, the 29-year-old James made his choice and laid out his reasons. No made-for-TV set, and no Boys and Girls Club members as set dressing. Just James, a writer and the tweet that launched a million clicks.
He discussed his regret for the Decision, though this apology has already been made (and we hope Dan Gilbert follows suit). He makes it clear that he had nothing but solid relationships and positive impressions of Erik Spoelstra, Dwayne Wade and the Heat as a franchise. He goes out of his way to thank the Heat for his experience and his time there.
Image Credit: AP
But at its core, this announcement is about his excitement for the city of Cleveland and this roster, now made complete by the return of its biggest star. Not once does he say he'll win four, five or six rings. Rather, he focuses on his excitement to reunite with his favorite teammate in Anderson Varejao and the desire to mentor Kyrie Irving and Dion Waiters. If he stays true to his words, it's a mantle of responsibility Clevelanders are thrilled to see him embrace and one built for a player like James to take on.
The Cleveland reaction
Yes, the reaction to the Decision in 2010 resulted in burned jerseys and anger. It wasn't that LeBron left so much as the way it happened. Now? The city cannot contain its excitement. Coupled with the Republican National Committee's selection of Cleveland for its 2016 convention, the city has enjoyed an unprecedented run of positive headlines. Add one of the game's greatest players and a downtown on the uptick should continue its renaissance as an underrated center for arts, food and entertainment. Every fan will welcome LeBron back with open arms. Just wait for the first playoff game. The Q will be one rocking building.
Image Credit: AP
The team on the floor
On the morning after the Spurs defeated LeBron's Heat in last month's NBA Finals, oddsmakers installed Cleveland as having a 60-to-1 long shot change of winning the championship in 2014–15.
Now?
LeBron brings to the roster a playmaker they haven't had since ... well, LeBron James. A duo of Kyrie Irving and James could rival the Thunder's Kevin Durant-Russell Westbrook combo as the most potent one-two offensive punch in the game. James not only fills a glaring hole at small forward, but provides an avenue for Andrew Wiggins to learn and not have to log heavy minutes. He can work wonders for the development of Anthony Bennett, Tristan Thompson and Dion Waiters. When you have a clear No. 1 that actually makes his supporting cast better, a young roster of potential can actually become a young roster full of actual talent.
This team now is probably the best team in the East. Indiana is no lock to be the beast it was all last season. If they cannot figure out their chemistry issues or Lance Stephenson's contract, the Pacers will slip. Chicago cannot rely on Derrick Rose to come back healthy. Miami will be lucky to retain Chris Bosh. Toronto hasn't turned the corner. So really, who stands in Cleveland's way?
It's only the first day of the story. Not one game has been played, nor has LeBron put on a uniform and tied his sneakers. But there is no denying this level of excitement has not been seen in Cleveland since the 2007 NBA Finals or even the Indians' magical playoff runs throughout the '90s. So what if the season is three months away? Cleveland's going to celebrate all weekend long.