Troubling Photos Show Israelis Grabbing Front-Row Seats to Watch Airstrikes on Gaza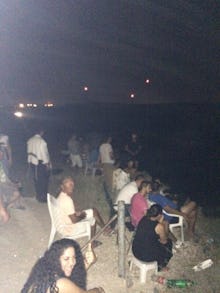 The news: While most around the world watch with growing alarm as the bombs fall over Gaza, some Israelis have taken a different approach: enjoying the spectacle.  
Allan Sørensen, a Danish news correspondent for the Kristeligt Dagblad, posted this picture to Twitter last week. 
Kristeligt Dagblad reported that more than 50 Israelis gathered on a hilltop cheering "as they [watched] the deadly aerial bombardment of Gaza." The scene was a sort of "cinema" as people assembled for "a reality war theatre," and clapped after blasts were heard. Some people were seen eating popcorn or smoking hookah from their chairs on the hill, according to the Independent.
Other similar images have since surfaced, indicating this kind of spectating may be more common than one would like to believe. Even a couch was brought up for "Sderot cinema," turning the Gaza-Israel conflict into a full blown spectator sport.
Image Credit (both): Getty 
What are they watching? Rockets and missiles. Israel's missile defense system, Operation Protective Edge, has intercepted more than 400 rockets sent into Israel from Gaza, 76 of which were intercepted by the Iron Dome missile defense program. The frequent firing of rockets from Gaza has made a dash to shelter a daily routine for hundreds of thousands of Israelis. The IDF began their aerial campaign last Tuesday, and the military claims to have struck more than 1,100 targets. 
Israel launched at least 19 major air strikes all along the Gaza Strip and the death toll has now risen to 235 Palestinians. The IDF are employing, "roof knocking," in which the IDF fires a missile at civilian homes to warn occupants ahead of a larger attack. Amnesty International has condemned the practice
Just after 10 p.m. local time on Thursday, the Israeli military announced it had begun a ground operation on the Gaza Strip, saying its goal was to "establish a reality in which Israeli residents can live in safety and security without continuous indiscriminate terror."
Thousands of Gaza Strip citizens are heeding the advice of the Israeli military and fleeing their homes for safety concerns. Both sides [appear] ready to continue and to escalate the conflict," reports the New York Times.
Such a grave and bloody crisis calls for a serious emotional response. The reports about "Sderot cinema" illustrate the opposite. The death of hundreds of people is nothing to cheer on.