Meet the Young Woman Who's Bringing Grit Back to Country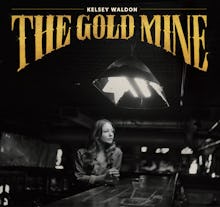 Four female acts are currently on the top 25 of Billboard's Hot Country chart. Of those acts, only one is a solo performer (meaning: not in a band, usually with men) — Miranda Lambert's duet with Carrie Underwood, "Somethin' Bad," sits at No. 6. One has to wonder if she would have made it there if she, like current pop country king Jake Owen, had sung alone.
This is a sad state of affairs because, for decades, women played an essential and popular role in the music — Patsy Cline broke boundaries when she stole the spotlight from her male counterparts, while Loretta Lynn wrote record-breaking songs focusing on female strength. But these days, it can seem like if you want to succeed in popular country, you should be a man writing about girls. Unless you're Kelsey Waldon. 
Recently, Waldon has begun making noise in the industry. The 26-year-old Kentucky-native moved to Nashville from a tiny Kentucky town called Monkeys Eyebrow. Legend has it that if you stand on top of a hill outside the town and look down, it'll look a lot like its namesake. Waldon has had a similarly improbable-sounding career. In the midst of the new dawn of hyper-masculine country, the singer is a stunning new embodiment of the female grit that broke the boundaries of yesteryear and has since been silenced in CMA-land. And she's actually getting noticed for it.
Her recently released debut album Goldmine has received hefty praise, with note in the Washington Post, Rolling Stone, New York Minute, American Songwriter and Country California. But she isn't getting attention for her looks, her vocal runs or her tales of summer love — Waldon is turning heads with brutal and unflinching story-telling. Every one of her stories rings true because nobody helped her make this happen: She funded the project with her own savings, and then finished it with funds from an Indiegogo. Unlike a lot of stars, Waldon lives her values.
Like Lynn before her, Waldon writes about real issues that women face — and no, that doesn't mean boyfriends who flirt with bar skanks. She writes about single mothers, alcoholism and struggles with walk-out dads. Amidst Goldmine's 11 tracks, Waldon shines as she paints musical pictures of female perseverance in the face of authentic struggle. On the song "Pride," she sings: "You know sometimes when you can't run, you just got to crawl." If that were a typical country song, it would have been a hyper-masculine tale of honor, dignity and trucks.
"I think the best stories are the ones that people don't want to tell. I don't want to hold back in the lyrics ... I just want people to see the beauty and soul I feel in country music," Waldon told Billboard Magazine.
Female grit has long been the taboo of "bro-country," but Waldon's embrace of that kind of raw strength is a much needed reflection of an improbable nascent industry shift towards honest and popular female vocalists — one we've been starving for. Industry empresses like Lambert and Kacey Musgraves are tackling previously "non-country" issues in a sort of trickle-up approach from the genre's indie artists — the ones we need to crack the charts.
Because lyrics are powerful. They cause riots, inspire social change and anger ministers. And in a genre where industry leaders reward men for tackling tough issues by helping them climb the charts and reward women by giving them less air time, women like Waldon aren't just good to look at — they're necessary to listen to.