How Chrissy Teigen Overcame Being Fired by Forever 21 for Being 'Too Fat'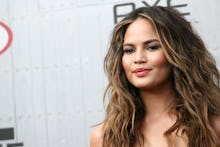 Before Sports Illustrated swimsuit cover girl Chrissy Teigen went on to become one of the world's most sought-after supermodels, she bravely encountered the industry's infamous body-shaming norms from one of America's favorite retail brands. 
Teigen, who is married to R&B singer John Legend, was fired for being "too fat" by Forever 21 during the early stages of her career, a painful memory she revealed in an interview for the the July issue of DuJour Magazine.
"I showed up on set and they asked me if they could take a photo. They shoot the photo off to my agency, who then calls me as I'm sitting in the make up chair, and they say, 'You need to leave right now. They said you are fat and you need to come get your measurements taken,'" Teigen said.
But it was ultimately Teigen who had the last belly laugh. She went on to shoot campaigns for Nike, Billabong and Olay, and even graced the covers of Maxim and Sports Illustrated, most recently for the Swimsuit Edition.
"I hate you, Forever 21," she said. "I hate you so much. Honestly, you are the worst."
Even more illuminating and inspiring for young, up-and-coming models is that Teigen loves the culinary arts, recipe hunting and long stints of cooking and eating — including John Legend's special fried chicken recipe. It's a far departure from the crash dieting, eating disorders and body dysphoria otherwise encouraged by a cruel industry that demands its models be rail thin.  
Teigen's rejection of the industry's obsessive and unrealistic body image standards is so strong that she avoids talking about her own regimen. "I don't really like talking about health, fitness and dieting. That kind of stuff is very private to me because when I do end up sharing things like that, it doesn't work for everybody," she said. "I actually hold things like that really close to me."
Unfortunately, despite famous supermodels like Teigen coming out in support of body positivity and eating for enjoyment and wellness, the sad reality remains: 91% women on college campuses have attempted to control their weight through dieting. And roughly a quarter of those women use binging and purging as a weight-management technique. 
Not only are retailers like Forever 21 guilty of promoting an unhealthy obsession with body image and fat-shaming, their calls for so-called body perfection perpetuate the endless cycle of eating disorders and depression that damages young women both inside and out. 
That's why Teigen's revelation has the potential to encourage many other young women. She joins a chorus of other models who don't fit the industry's measurement requirements, but shape their perceptions around wellness and a celebration of their bodies.
Not long after Teigen graced the 2014 Sports Illustrated Swimsuit Edition, "plus-sized" supermodel Robyn Lawley joined other women to challenge the industry's standards by creating their own the cover through beauty-affirming photo shoot. It's part of a campaign for Swimsuits For All, a swimwear company providing fun and fashionable apparel for women of various shapes and sizes. 
Image Credit: Swimsuits For All via YouTube
With supermodels like Teigen taking a bite out of body-shaming, we're perhaps one step closer to seeing runways, magazine covers and many up-and-coming supermodels with bodies that represent a vast spectrum of human possibility.
Pretty doesn't have to hurt after all. In fact, pretty can and should feel easy, breezy and natural.