Archie Andrews, Comics Mainstay, Dead at 73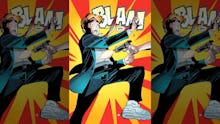 Archie Andrews, a mainstay of newspaper and Internet comics, was shot and killed Wednesday while protecting friend Kevin Keller, an anti-gun veteran and gay senator in a mixed-race marriage. He was 73 (though he looked remarkably good).
The shooter remains unknown and at large.
Andrews leaves behind his wife Betty and their children, childhood sweetheart Veronica Lodge, a group of close friends, a distraught community in Riverdale and many fans of both his music and his life. Hundreds of fans followed Andrews' wide-spanning career, which included touring with Josie and the Pussycats as well as stints as an extraterrestrial investigator and superhero.
Though his death is unmistakably sorrowful, it was not without some great benefit. Andrews was felled when taking a bullet for Kevin Keller, his first openly gay friend who became a mainstay of the gang and their adventures. 
"The introduction of Kevin is just about keeping the world of Archie Comics current and inclusive. Archie's hometown of Riverdale has always been a safe world for everyone. It just makes sense to have an openly gay character in Archie comic books," loved one and Archie Comics co-CEO Jon Goldwater said.
Along with the powerful message Andrews sent by dying for his gay friend, recent issues of Life With Archie have seen Andrews and co. dealing with increasingly real issues such as the army's "Don't Ask, Don't Tell" policy, gun control, interracial relationships and disabilities. Though Andrews enjoyed his younger years in the '40s and '50s in a mostly cotton candy world, more recent adventures have continually pushed the envelope and injected more reality into the otherwise innocuous stories. 
Andrews' death means the end of Life With Archie, though his memories will live on in a number of teenage adventure publication spin-offs. While some may think his death is a hoax just to boost the comic's interest and regain fan momentum (taking a note from Superman in 1993), there's no reason to think he'll be revived — at this point at least. 
Andrews was born in 1941, in the pages of Pep Comics, where his antics and spin-offs found home in regularly published digests. By 1969, he was one of the most talked about figures in America — more so than Superman, while the spin-off adventures of Betty and Veronica were outselling Batman and Spider-Man.
As Andrews aged into the the 21st century, his print popularity declined, but he soon found a new audience of digital fans who propelled him to being the most downloaded comic on iTunes and the No. 4 iPad book app.