Five Changes FIFA Needs to Make Before the Next World Cup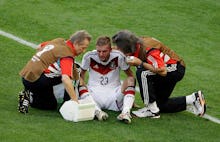 Moments after taking a knee to the head and appearing to suffer a concussion during a critical World Cup match against England last month, Uruguay's Alvaro Pereira angrily shoved the team doctor aside and tried to force his way back onto the field. Later in the tournament, two more seemingly concussed players, Javier Mascherano of Argentina and Christoph Kramer of Germany, took similarly stubborn (albeit less combative) approaches, insisting that they should not be subbed out.
All three players got their way.
Any American sports fan who has paid any attention at all to the NFL's concussion crisis should have been taken aback by each of these cases. And it looks like Congress is trying to take action on the issue.
On Tuesday, the cochairs of the Congressional Brain Injury Task Force, U.S. representatives Bill Pascrell, Jr. (D-N.J.) and Thomas J. Rooney (R-Fla.) wrote a letter to FIFA president Sepp Blatter, recommending that his organization "reevalutate [its] policies … on head injuries."
The congressmen pointed out the hypocrisy of FIFA's public stance ("Do not take a head injury lightly. No match is that important."), since no rules are in place to force a possibly concussed player to sit out the rest of the game or even to undergo a proper medical evaluation before returning.
Should referees take the decision out of the managers' hands and bar these loopy players from the field? Should coaches be given a free substitute to get the player off the field — one that would not count against the normal maximum of three changes?
These are two possible ways to address what should be FIFA's top priority before it hosts another tournament. If it chooses to take the issue seriously, it shouldn't prove too difficult to solve.
Here are four other changes that world soccer's governing body should make before the start of the 2018 World Cup in Russia.
Solve the empty seat problem.
Some of the best games of the tournament had swaths of empty seats, including the hotly anticipated Spain-Netherlands tilt, where more than 7% of the ticketed fans never arrived. FIFA placed the blame on fans simply not showing up, but it's likely that tickets being given to sponsors (25% of all tickets) as well as tickets that never escaped the ticket-scalping netherworld, had something to do with it. Scalping may be impossible to stop, and FIFA has admittedly improved with the sponsor problem, with 100,000 tickets having been returned, but more should be done to combat both issues. If nothing else, allow locals in a standby line to enter at halftime.
Image Credit: AP
Stop the overly stringent yellow card policy.
Two yellow cards in the three group-stage games lands a player a suspension for the Round of 16. That's fine. But being suspended for garnering a yellow card in two out of your team's first five games? That's ridiculous. Yet that's exactly what happened to Brazil's Thiago Silva, who missed his team's semifinal game because of two yellow cards. Come 2018, each player's slate should be wiped clean after the group stage and remain that way for the rest of the tournament. Truly dangerous plays will continue to be punished with red cards (or after-the-fact suspensions), while players should be free to play with the intensity that knockout games demand.
Image Credit: Getty Images
Start penalizing players for embellishment.
Despite the fact that diving, as always, was plentiful in the 2014 World Cup, only one player was penalized for it. This one's pretty simple: If a player is theatrically writhing on the ground and the referee rules that no foul (and possibly even no contact) took place, the referee should be thinking about using the yellow card he has in his pocket. Of course, the referees in Brazil knew this. They just didn't follow the rule, except during the meaningless third-place match, in which case it was actually the wrong call to make.
Image Credit: Getty Images
Use only the top referees.
Colombia's Categoría Primera A, Japan's J1 League and Algeria's Ligue 1 do not need to be represented among the referees of a World Cup. Referees from those leagues were responsible for some of the worst calls in the tournament. By limiting its search to only one refereeing team from each country and choosing to disregard the fact that referees in Europe's top leagues are far more qualified for the task at hand, FIFA is hurting its own showcase event.
Image Credit: AP