Marvel Is Making a Big Change to Captain America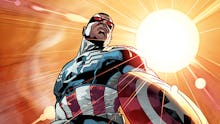 The news: Marvel is going all out to diversify their Avengers cast, not only bestowing the Thor title on a woman, but also officially giving the role of Captain America to a black man for the first time ever. 
These announcements came Wednesday evening on The Colbert Report as a preview of the new stories in the Avengers NOW! initiative. The new series will also give Iron Man a change of direction (and a new suit) and greater visibility to the Scarlet Witch, Ant-Man and Dr. Strange (among others) in preparation for their movie debuts in the Marvel Cinematic Universe.
As for the new Captain America, it was confirmed on The Colbert Report that Sam Wilson would be taking on the title. Wilson, otherwise known as the Falcon, was Marvel's first African-American superhero back in 1969. He will be stepping up after a new villain drains Captain America of his super-soldier serum.
For Wilson to become Captain America is even more exciting for its symbolism. As a black man, Wilson tells a different story about representing the United States, with all its history and cultural dynamics. Marvel has already acknowledged that to some extent: In 2003, it released The Truth: Red, White and Black, which told the story of Isaiah Bradley, an African-American World War II soldier who participated in the initial testing of the super-soldier serum which would eventually be used on Steve Rogers, a white man. This helps make Wilson the nation's literal standard-bearer, and honors those people who have been consistently erased from the history that is theirs too.
Wilson will also be a contemporary man: He was born in the early 20th century and Wilson in the latter part, so a man more in tune with contemporary issues will make for some interesting content.
Image Credit: Hollywood Reporter/Marvel
The background: This is far from the first time superheroes have put down their masks and let others fill the void. In 2009, DC's Dick Grayson took on the title of Batman when Bruce Wayne was believed dead. Recently, after the death of Peter Parker, black Hispanic teenager Miles Morales took on the role of Spider-Man. The list goes on. The changeover helps boost sales, and then the return to the old faces gets some marketing mileage after the novelty wears off. Critical response to Miles Morales' tenure, for example, has been strong, although sales have not.
There are positive marketing reasons too, though. Sam Wilson is already a superhero, but it is also exciting to see a new, possibly non-heroic figure don the title of Thor. Many superhero franchises today exist because they were given the chance to step into familiar shoes first. It makes sense: Don't try and launch a new brand blind, give audiences a chance to acclimate to a new person in an old costume and then give them their own, new identity if fans like them. It's how a hero like War Machine got his big break, after he served as a new Iron Man.
Besides all the marketing stuff, this is also a sign of Marvel's commitment to diverse new versions of old tropes and characters. Of particular success lately has been the new Ms. Marvel, a Pakistani-American Muslim teenager named Kamala Khan, written by Muslim writer G. Willow Wilson.
Image Credit: Marvel
The takeaway: Although Marvel is not one for keeping from the status quo for long — and with a movie franchise that still plays to the classic Avengers lineup still a huge moneymaker — this is a good sign. We may be able to look forward to new superheroes once these replacements step down, and until then, this move allows different groups of people to finally see themselves in the biggest superheroes of all.