One Tweet Perfectly Sums Up the State of the World Right Now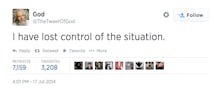 Yep. We have a downed plane and a ground war. Quite the day for humanity.
There are days when the news around the world is massively overwhelming, when things just get so dark that it weighs upon your mind, no matter how far removed the situation is from your own personal life. 
Thursday was one of those days. 
Here's what happened.
A holy shit moment just happened in Ukraine. A Malaysian Airlines passenger flight crossing through Ukraine crashed, killing 298 people. Alarmingly, a U.S. official has confirmed to NBC that the Malaysia Airlines flight was shot down by a surface-to-air missile. It's hard to say who is responsible. According to London's The Telegraph, locals said they heard two loud bangs before seeing flaming wreckage fall from the sky. A video reportedly shows the moment Flight MH17 crashed:
Image credit: AP
A web of governments are now involved in this crisis. 
Reports say there were at least 154 people on the flight were Dutch citizens. There were also 27 Australians on board, 23 Malaysians, including all 15 crew, and 11 Indonesians. Six passengers from the United Kingdom, four from Germany, four Belgians, three from the Philippines and one Canadian. 
Ukrainian President Petro Poroshenko said that the Ukrainian military "did not take action against any airborne targets," declaring the crash a "terrorist act." Foreign Policy claims the translated conversations overhead among the villagers are evidence of pro-Russian separatist celebrating the crash. A rebel Twitter account quickly took down a post which had bragged about shooting down a Ukrainian military "An-26." As Vox notes, this aircraft looks like it could be mistaken for a passenger jet.
Reuters reported Ukrainian separatist leader Aleksander Borodai has blamed the downing of the plane on the country's government forces. The possibility remains that either the Ukrainian or Russian military could have shot down the plane, though this would have almost certainly been unintentional.
Mic's Tom Mckay points out that Ukraine has claimed that Russia has shot down one of its Sukhoi-25 jets on Wednesday amidst a major buildup of troops on the eastern border, and that another missile had been fired at a Suk-25 the same day. It also says Russia shot down another military transport. Vox notes both sides have sophisticated military equipment and almost certainly would be able to detect the difference between military and civilian aircraft.
In a televised speech, Malaysian Prime Minister Najib Razak said MH17 did not make a distress call, and that if it was shot down, the perpetrators "must be brought to justice."
The European Aviation Safety agency has closed eastern Ukraine's airspace until further notice, reports AFP.
Whatever happens next, it's clear that Thursday was a "game changer" that will likely suck dozens of nations into the months-long Ukraine-Russia conflict, and broaden the crisis.
And then Israel launched a ground war. At 10:39 p.m. local time, the Israeli military announced it had begun a ground operation of the Gaza Strip, saying its goal was to "establish a reality in which Israeli residents can live in safety and security without continuous indiscriminate terror."
Image credit: Getty
NDTV reports Palestinians and journalists in Gaza witnessed heavy artillery fire from ground troops and navy ships. Israel continued their air assault, which included targeting a rehabilitation hospital and, earlier, killing four young children playing on a roof, NDTV reports. 
Hamas spokesperson Fawzi Barhoum told Al Jazeera that Israel's ground operation in Gaza amounts to "stupidity," and threatened that the Israeli army would pay a "high price."
It's one of the more severe cycles of Israel-Palestine violence in the last 14 years. Here's how it compares (click to enlarge):
Thursday was a no good day for humanity. Pure and simple.
Editor's Note: This story has been updated to remove language that was used without attribution to the Standard-Examiner. We apologize to our readers for this violation of our basic editorial standards. Mic has put in place new mechanisms, including plagiarism detection software, to ensure that this does not happen in the future.