Two Architects Have a Brilliant Plan for Brazil's World Cup Soccer Stadiums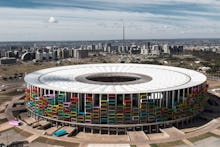 The news: Two architects, Sylvain Macaux and Axel de Stampa, want to convert Brazil's 12 World Cup stadiums into much-needed housing.
The project, called Casa Futebol, would put an estimated 1,000 to 2,000 1,130-square-feet housing units into each new stadium, resulting in roughly 20,000 homes.
After spending nearly $4 billion building the 12 massive structures, Casa Futebol would be a relatively cost-efficient way to develop sustainable housing solutions for the 18.6% of Brazilians living below the poverty line.
Macaux believes that the World Cup stadiums are so massive that "it is almost absurd." And this high-concept design could easily accommodate many of the 250,000 people displaced by the World Cup.
"We've read, like everybody, about the social protests in Brazil, about all the money wasted for the World Cup," Macaux told Fast Company. "We tried to find an answer to the issue in our own way, with a concept and a powerful image."
Now that the World Cup is over, stadiums like the one in Brazil's Amazon rainforest won't see much use, though they will continue incurring $250,000 a month upkeep costs (a local judge proposed converting it into a prison). And then there's a 72,000-seat stadium in Brasilia, that cost $900 million to build, and will only bring in "crowds less than a tenth of that size," for local team events, reports Fast Company.
It's only a concept ... for now. The ambitious idea is just a "thought experiment," but it does have potential. From an economic standpoint, Brazil would probably want to use these multi-million dollar stadiums as much as possible. Previous World Cup hosts like Germany and France use their stadiums regularly for local soccer games subsequent to the World Cup. The U.S., after their 1994 hosting gig, started filling their stadiums with NFL games and college football games to continue to profit from the construction.
Image Credit (all): 1Week 1Project
Casa Futbol is a particularly exciting idea given Brazil's serious issues with poverty and human displacement (two issues exacerbated by the 2014 World Cup). Hopefully, Macaux and de Stampa can turn this idea into a reality.