This Video Shows Why 'Guardians of the Galaxy' Could Be the Most Exciting Action Movie Of the Year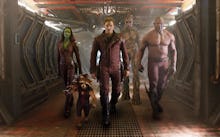 Marvel's choice to make Guardians of the Galaxy into a film may seem baffling, but the movie has the potential to be the most exciting sci-fi action film of the year — that is, if the teasers are anything to go by. 
If Guardians of the Galaxy feels like an unusual choice for a summer Marvel movie, that's because it is. It's hardly Marvel's best-loved property, even among comic book fans. But Marvel is banking on their ability to turn secondary titles into Batman-sized big hitters, just as it did with Iron Man and Thor. With its strange cast of bandits for leads, it also won't be a movie full of virtuous, dutiful heroics. This is a superhero movie with a skewed moral compass and a cast of demi-human weirdos. And it has the potential to win big.
On Sunday, the studio released a five-minute look at Guardians of the Galaxy, giving audiences a longer look at the oddball adaptation. These five minutes immediately show that it not only has an all-star cast of notable talent, but it also sports some of the quickest, sharpest dialogue since The Avengers. Marvel's gamble could yield Thor-like success.
Guardians of the Galaxy stars a buffed-up Chris Pratt (Andy Dwyer on Parks and Recreation) as Peter Quill, a sardonic treasure hunter who forms a ragtag team with his fellow prison inmates after he's caught trying to steal a powerful artifact. Only problem is, his new allies were his rivals just a short while before, leading to an uneasy truce as they try and evade the evil Ronan.
Lee Pace as Ronan the Accuser. Image Credit: Marvel
The movie's ensemble also includes Zoe Saldana as green-skinned assassin Gamora, Dave Bautista as the warrior Drax, Vin Diesel as the oaken humanoid Groot and Bradley Cooper voicing the foul-mouthed Rocket Racoon. The cast also includes Karen Gillan, Glenn Close, Peter Serafinowicz and John C. Reilly. 
If the rest of the movie keeps up the teaser's quick-paced mix of hilarity and action, then this may be one of 2014's highlights in any genre.
Guardians of the Galaxy arrives in cinemas Aug. 1.