The Crisis in Gaza Is Creating Horrifying Backlash for Jews Around the World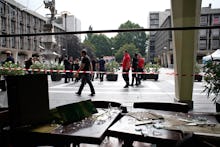 Molotov cocktails and mobs at synagogues. Assaults on city streets. Leaflets left on car windshields promising violence. Public hate speech and calls for eradication. Governments holding houses of worship hostage.
It's not paranoia or exaggeration: Jews around the world are facing attacks as the crisis escalates in Gaza, where rocket fires, bombings, an Israeli ground invasion and hundreds of civilians deaths are daily realities. But the 17-year-old teenager who was assaulted and pepper-sprayed in Paris had nothing to do with that. She's not an isolated case. This is what happens when some view diaspora Jews as an acceptable proxy for the Israeli state. 
No matter what your position is on the conflict, nothing justifies targeting people uninvolved in the fighting. To vent frustration about Israel on Jews, no matter where they live, conflates the two in dangerous ways.
To criticize Israel is one thing, and plenty of Jews there and abroad do that themselves; it's another thing entirely to do so using anti-Semitic language and imagery, when that kind of speech has led to such terrible tragedies in the past. To no one's credit, times of heightened tensions in the Middle East usually mean a huge uptick in expressions of anti-Semitism, written, verbal and physical.
Image Credit: Vox. The spike in activity in 2009 corresponds with Operation Cast Lead, a conflict between Israel and Hamas that left up to 1,400 dead, the vast majority Palestinians, as well as accusations of war crimes against both sides.
Holding religious and ethnic groups accountable for the actions of a sovereign nation is nothing more than collective punishment, and it must be condemned and forsworn.
Unfortunately, this aggression against Jews isn't happening in a vacuum. Anti-Semitism is a real and undeniable force in the world. Nearly one-third of European Jews have considered emigration because they do not feel safe in their home country. According to the FBI, 62% of religious hate crimes in the United States were anti-Jewish, even though Jews only make up 2.2% of the population.
Image Credit: Wall Street Journal
Incidents of anti-Semitic attacks have steadily risen since 1989, with clear spikes in activity during flash points between Israelis and Palestinians.
Image Credit: Wall Street Journal
World leaders are calling on their citizens to disown such tactics, particularly in Europe, where the Holocaust, one product of hating and blaming Jews, is still in living memory.
Here are five disturbing cases of Jews being targeted for what's happening in Gaza:
1. France
The widely reported ban on pro-Palestinian demonstrations followed attacks on Paris-area synagogues starting July 14, when protesters marched on the Don Isaac Abravanel synagogue on Rue de la Roquette during a memorial service for the three kidnapped Israeli teenagers killed in the West Bank.
Some 200 people were trapped inside while individuals armed with bats, chairs and other objects tried to force their way into the building, chanting "Jews to the ovens." A controversial right-wing Jewish group, the Jewish Defense League, reportedly joined the fray.
That same day, attacks on two synagogues took place, including a firebombing, in a suburb of Aulnay-sous-Bois.
On July 20, riots and arson rocked the Parisian suburb of Sarcelles, often called "Little Jerusalem" for its large Jewish population, after a protest turned violent.
Image Credit: AP. People speak in front of the Sarcelles synagogue after an attack on July 21.
Roger Cukierman, president of Representative Council of French Jewish Institutions, described a community that is both anguished and fearful.
"We have had eight synagogues attacked, we have had shops being aggressed, mezuzot [small religious scrolls on doorways] being torn out," he said. "We have heard crowds shouting death to the Jews, not death to Israel, although they pretend to demonstrate in favor of Hamas and Palestinians and against the state of Israel."
France has Europe's largest population of Jews, nearly half a million, and while government ministers have taken to op-ed pages to decry ethnic and religious violence, record numbers of Jews are leaving the country, thanks to a poor economy and threats from both right-wing and left-wing extremism.
The popularity of proudly anti-Semitic comedian Dieudonne, alongside the fatal shooting of Jews in Toulouse in 2012, and at a Jewish museum in nearby Belgium this spring, remains troubling. Emigration to Israel was up 63% in 2013; 400 French Jews arrived in Israel last week.
2. Turkey
The Ottoman Empire welcomed Jews fleeing the expulsion from Spain in the 15th century, while during the 1930s and '40s, Turkey became a safe haven for Jews escaping the Holocaust. It's not the same place today.
A right-wing journalist called both those legacies into question in an open letter to Turkey's chief rabbi on July 15, in which he demanded the Turkish Jewish community's condemnation of Israel's actions in Gaza:
"It is a necessity that you do this for having lived in this country for over five centuries in security. As you would appreciate, in terms of the continuation of this 'living in security,' it's highly important that this country's Muslim population not be caught in a 'social rage' and develop 'anti-Semitic feelings' due to the trauma that the Israeli massacres will cause them. Because in social rage, there is no justice, there is no reason, there is no conscience. And social rage has no breaks; where it will go and where it will stop is unknown."
These threats, which Turkish Jews have felt before, are not limited to private individuals, including those who attacked the Israeli consulate in Ankara on July 18 and wrote "Die, Murderer Jew" on its walls.
Prime Minister Recep Tayyip Erdogan frequently compares Israelis to Adolf Hitler, including a July 19 statement in which he said that Israelis "have no conscience, no honor, no pride. Those who condemn Hitler day and night have surpassed Hitler in barbarism."
Erdogan has also stated that Turks should not take out their aggression on Turkish Jews, who are "citizens of this country," but he's not the only one to make Nazi comparisons in Turkey. Yeni Akit, a conservative paper that also published the above letter, ran a crossword puzzle last week in which the clue spelled out that what's needed to stop the fighting in Gaza is intervention by Hitler, who will, presumably, wipe out the Jews.
3. Algeria and Morocco
No one knows how many Jews still live in Algeria, if any, though in the early 20th century, the ancient community's population is estimated to have been between 100,000 and 140,000. 
In the 1940s and '50s, many fled to France or Israel, leaving behind a number of synagogues, which the Algerian government closed during the civil war of the 1990s. Salafist protesters crushed hopes to reopen those synagogues, after decrying the "Judaizing" of Algeria, as well as the attacks in Gaza, during a demonstration on July 11. 
Some reports claim a government minister placed conditions on the Jewish community to ensure progress in reopening the synagogues, including disowning Zionism and Israeli actions in Gaza. Religious Affairs Minister Mohamed Aissa claims that the delays actually came from a desire to keep people safe.
Meanwhile, in Morocco, a young man staked out and beat a rabbi to unconsciousness as he walked to services in Casablanca on July 11. Rabbi Moshe Ohayon said that passersby ignored his pleas for help, and that before attacking him, his assailant asked, "Are you Jewish? What's the Tsahal (Israeli army) doing to our brothers [in Gaza]?"
4. United States
According to data released by Pew last week, Americans like Jews the best, which makes it somewhat jarring to think about the threatening anti-Jewish leaflets found in Chicago on Sunday, or the Boston protesters who shouted "Jews back to Birkenau!" at a Jewish couple on Saturday.
Image Credit: ADL. Protest in New York, July 19.
Other protests have featured language that includes classic anti-Semitic tropes such as claims of Jewish leaders (such as Israeli Prime Minister Benjamin Netanyahu) and organizations (such as AIPAC) as puppet-masters, alongside Holocaust and Nazi imagery and calls for the eradication of Israel entirely.
Godwin's Law exists for a reason: Any comparisons to the Third Reich dehumanize utterly and completely, and they shut down debate with very little recourse (as if this conflict wasn't entrenched and difficult enough already). Anything is permissible if one's opponent is absolute evil. Equating Zionism, the belief that Jews deserve a national homeland, with Nazism, which held that certain categories of human beings should be eradicated, ascribes inherent genocidal impulses to Jews (another anti-Semitic trope). In fact, equating Zionism with Nazism justifies eradicating those who believe in Zionism by any means necessary — sort of like Nazism itself.
Mostly Nazi callbacks are about scoring points more than making them. British commentator Howard Jacobson wrote in 2009: "Given the number of besieged and battered cities there have been in however many thousands of years of pitiless warfare, there is only one explanation for this invocation of [the Warsaw Ghetto] before any of those. It is to wound Jews in their recent and most anguished history and to punish them with their own grief.
"Its aim is a sort of retrospective retribution, cancelling out all debts of guilt and sorrow. It is as though, by a reversal of the usual laws of cause and effect, Jewish actions of today prove that Jews had it coming to them yesterday."
5. Germany and Belgium
Neo-Nazis in Frankfurt, Germany, were some of the 2,500 protesters at a July 19 rally calling Jews "beasts." A German police officer also allowed protesters to use a police megaphone to shout anti-Jewish and anti-Israel slogans.
In Antwerp, Belgium, on July 12, members of a 500-person crowd invoked the Battle of Khaybar, a 7th century defeat for Jews, and called for slaughter. (Emigration by Belgian Jews has jumped 60% since 2009.)
An imam in Berlin prayed last week for Zionist Jews to be killed "to the very last one." Police on Tuesday had to reroute a protest that would have taken 500 marchers directly to Berlin's Holocaust Memorial.
Bernd Wierer, a 70-year-old non-Jewish Berliner, confronted youth who were chanting slogans calling Israel a fascist state. "They can demonstrate here, I support that, but you can't say those things in Germany," he said.
Protesters in Berlin explicitly invoke the anti-Semitic blood libel on Monday, July 21. Image Credit: AP
As Israel, Hamas and the civilians caught in the middle on both sides continue to fight in the Middle East, protests and outbursts like these are likely to continue as well. Just as Jews around the world cannot be held responsible for the actions of the state of Israel, anti-Semitism is not a representative feature of all Muslims, or all French citizens, or all protesters. But it's irresponsible to pretend it's not affecting the conversation.
Suffering doesn't cancel out other suffering, and making more of it will never help it end.
Correction: July 25, 2014. An earlier version of this article included video believed to show violence by pro-Gaza protesters in front of the synagogue on Rue de la Roquette, in Paris. The video in fact shows a clash between pro-Israel protesters, some purportedly affiliated with the Jewish Defense League, and pro-Gaza protesters.