11 Ways the Music Industry Makes It Impossible for Indie Artists to Succeed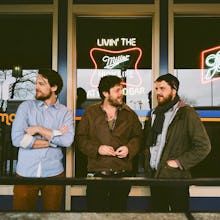 It has never been easy to be a professional musician. These days, it's only gotten harder.
One glance at the news will tell you as much. David Byrne, lead singer of the Talking Heads and author of How Music Works, was just in Billboard on Friday urgently responding to the proliferation of streaming music sites, "Do we always do what is best for the consumer in the short run, or do we think more long-term about our culture and quality of life?"
Meanwhile, more than 700 independent music labels recently joined forces to sign the Fair Digital Deals Declaration, which combats unfair and murky payment practices used by streaming services. Among their legitimate complaints is their disapproval of certain existing practices that leave artists "under-recompensed and under-informed in the digital marketplace." And even Congress would agree.
This isn't just about established artists getting their due, though. This matters because indie artists and young aspiring musicians have no way to support themselves as they grow and explore their art — art we need to keep music vital, and we need to support music's new voices. Here are 11 reasons why it's nearly impossible to succeed as an independent musician in the current music industry. 
1. Indie music is being threatened by the online platforms it needs.
It's one thing to get paid nothing for your music on the Internet. It's another not even to be able to distribute it online.
Recently, YouTube threatened to take down videos from independent labels and their artists (including the Arctic Monkeys) if the labels didn't agree to YouTube's unfavorable terms. And smaller labels and independent musicians could soon be slammed by the changing net neutrality landscape, which would favor bigger sites like Amazon that can afford to negotiate pricey agreements with Internet service providers, thus giving them all the bargaining power when it comes to cutting deals with musicians. All of this leaves small artists and labels with less and less power over careers and finances.
2. Independent labels can't afford to help their artists out.
Beggars Group, a collective of U.K. independent labels including Rough Trade (home to Arcade Fire and the Strokes) and 4AD (Bon Iver, the National) recently announced it will no longer split streaming royalty rates 50/50 with its artists.
The principle reasons, according to Beggars Group chairman Martin Mills, were "economical," because it was getting difficult to sustain. It's also possible that the rate could be lowered even further as streaming becomes more popular.
3. Moving to a city where there's a big, established music scene is costly.
The traditional narrative of "making it" in music generally involves being discovered. Unless your social media game is really top notch, that involves moving to a city with a real music scene — one where you can play lots of shows and find other bands to support your bills.
But if you want to follow in the National's footsteps and make the jump from Cincinnati to New York City to get discovered, you better be prepared to swallow a 110.8% hike in the cost of living.
4. No one wants to spend money on music — let alone on something they haven't heard.
Digital downloads dropped 12.5% in the first few months of 2014, while streaming rates skyrocketed.
"No musician I know is making their living from selling music," explained Nicolas Jaar, an experimental electronic musician whose 2011 debut album was a critical, if not commercial, success. 
Even if you can convince people to buy your music, you see a diminishing slice of the pie — iTunes pays 70 cents per song, and that 70 cents could be distributed any number of ways, depending on whether an artist is on a label or not. If you go grassroots and sell via Bandcamp, the site takes a 10-15% cut before PayPal takes a cut, too. Even without labels, there are still middle men.
5. Streaming royalties are insultingly low.
Navigating Spotify's payment process is difficult, and sites work out different deals with different labels, but independent artists could be making as little as $0.005 per play. That's what inspired indie soul band Vulfpeck to encourage fans to stream music on repeat while they slept so the group could earn a bit more money for frivolous things like, you know, touring.
But non-scheming artists, more established are hardly making ends meet with the money that they're making online. As Marc Ribot, a guitarist who has played with the Black Keys and Tom Waits, pointed out: "If we can't make enough from digital media to pay for the record that we've just made, then we can't make another one." 
6. Even if you make it to a major label, your career has no security.
Heard of St. Vincent? Probably. She just closed out the most recent season of Saturday Night Live, played the Pitchfork Music Festival and performed Nirvana's "Lithium" at the 2014 Rock and Roll Hall of Fame Induction Ceremony. You'd think she was in the clear.
But her touring partner and collaborator, Talking Heads frontman David Byrne, predicts a grim future for the indie rock superstar and others of similar ilk: "Many musicians like her, who seem to be well established, will eventually have to find employment elsewhere or change what they do to make more money."
Some professional musicians, like a few members of Grizzly Bear, even lack health care — to say nothing of musicians who aren't on a label.
7. Touring is a big risk for young musicians.
A lot of independent artists have day jobs, since, as previously mentioned, it is really difficult to make a living selling music. But live music is increasingly an essential part of making it in music. That means that going on tour necessarily means leaving behind a steadier cash flow and praying that the job will still be there upon your return. In short, touring is more important for a young band than an established one, but its risk is far higher.
Still, it's one that makes indie music feel all the more vital. Just listen to Mutual Benefit's beautiful Love's Crushing Diamond, a bold celebration of what happened after the lead singer quit his job and went all out on music.
8. Touring is more expensive than ever.
If an independent artist is funding their own tour, that means paying for gas, lodging and other various travel expenses. The average price for gasoline hovers around $3.60 per gallon, which adds up if you're driving around the country. And it really adds up if, like Bear's Den, you're driving around the country in less-than-fuel efficient VW vans. Ah, the '60s — when the vans were stylish and gas cost 30 cents a gallon (not adjusted for inflation).
9. There's already more music out there than anyone will ever hear.
There are pros and cons to the Internet age: It's now easier than ever for someone to make and distribute music, but it's far harder to be noticed. Market oversaturation is real, making it difficult for consumers to know where to start when it comes to independent artists. Approximately four million songs on Spotify have never even been touched by the service's users — so many that they've since been collected into an app called Forgotify.
10. It's just not profitable for labels to sign artists.
Labels that spend money on developing artists rarely recoup their money, so they're taking a huge risk every time they sign a new artist.
"Most labels' artists' signings are not ultimately profitable," Darius Van Armen, the co-owner of indie labels including Jagjaguwar (which launched Bon Iver) and Secretly Canadian, explained in a recent statement to Congress regarding copyrights and intellectual property. If that attitude went to its logical extreme under the duress of streaming service royalties, we may well miss the next Bon Iver.
11. Labels don't develop acts, they only sign popular ones.
Labels are hedging their bets by signing any band, and most likely will not make a profit off of a new artist. 
"In the future, artists will get record deals because they have fans, not the other way around," Taylor Swift wrote in a recent op-ed piece for the Wall Street Journal.
This creates a cyclical trap for independent artists, who face the issue of having to promote their music on their own in order to garner enough fans to get the attention of the bigger players in the industry so they can have fans who pay them nothing.
There is hope, though. Music is too important for things to stay this bad. Any scrappy band with real talent can still make it work, and nothing worth doing is ever really easy. With the indie labels banding together and Congress investigating copyright, things may get better soon. But for now, as ever, real art takes real struggle. Perhaps moreso now than ever.