Tony Dungy's Bigotry Towards Michael Sam Is the Least of the NFL's Problems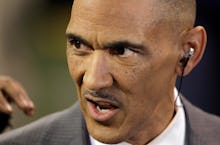 It's doubtful Tony Dungy, a former NFL coach who has leveraged his football experience and fatherly, wholesome image into a permanent role on the highest-rated TV show in the United States, was seeking a controversy when he was approached for a story on mental health in NFL locker rooms that ran in Monday's Tampa Tribune. 
But when Dungy was asked about Michael Sam — the league's first openly gay draftee who was chosen in the seventh and final round by the St. Louis Rams — that's exactly what he created.
"I wouldn't have taken him. Not because I don't believe Michael Sam should have a chance to play, but I wouldn't want to deal with all of it. It's not going to be totally smooth."Things will happen."
A refresher: Dungy is a devout, God-fearing Christian who has made his views on homosexuality known in the past. In 2007, weeks after leading the Indianapolis Colts to a Super Bowl win, he accepted a "Friend of Family" award from the Indiana Family Institute, publicly aligning himself with an anti-gay organization that wants marriage defined as the union between one man and one woman. Said Dungy in his acceptance speech: "I appreciate the stance they're taking, and I embrace that stance. We're not trying to downgrade anyone else. But we're trying to promote the family — family values the Lord's way."
Since the media brouhaha those remarks ignited, Dungy has approached the issue with greater caution and tact, even if he hasn't compromised his stance. When pressed by Bob Costas later that year, he said he would accept those with other religious beliefs or different sexual preferences. When NBA player Jason Collins came out last year, Dungy responded with careful measure via Twitter.
Whether he is homophobic or bigoted — or if those terms are mutually exclusive — is for the individual to decide. Forget for a moment that Dungy was one of the NFL's first black assistant coaches and never would have gotten a chance to prove himself had Chuck Noll worried about potential backlash rather than merit-based promotion in 1981. Or that Dungy was Michael Vick's most visible supporter upon his release from federal prison in 2009, urging teams to overlook the media frenzy certain to follow his signing.
Truth is, Dungy's allusion with those foreboding words — things will happen — is much less about his views on Sam's sexual preference than a resignation to an NFL locker room culture that, apparently, hasn't progressed as far as we've hoped.
Don Jones, a defensive back for the Miami Dolphins, was disciplined by the team after he wrote a series of tweets expressing disgust at having to watch Sam kiss his boyfriend on television. At the Super Bowl two years ago, San Francisco 49ers cornerback Chris Culliver said "he didn't do gay guys" when asked if he could ever co-exist with a homosexual teammate.
Sam and the Rams have already worked to accommodate each other's needs, like when the rookie announced he would no longer be filming a reality series with OWN Network, which was previously designed to give the television crew access to the team's locker room. It had been reported the team was open to the concept, but teammates were uncomfortable with the increased media presence and magnified scrutiny during training camp.
The NFL is not necessarily prepared for what's to come. Without knowing specifically what Dungy is referencing, it doesn't seem a reach to assume he's talking about potential friction in the locker room with teammates, and a divide between those with strong beliefs toward Sam's sexual preference.
It's not right, but this is the reality.
If the ongoing saga between iconoclastic punter/outspoken gay-rights activist Chris Kluwe and the Minnesota Vikings showed us anything, it's that Sam's assimilation to the NFL will be fraught with institutional pushback. It starts with the arithmetic: The sheer size and intrinsic subdivisions of NFL rosters — between offense, defense, special teams with coaches managing specific segments of players — suggests it's not the pro sports league best equipped to handle the matter.
The NFL has a laundry list of problems. The most concerning — from a health care standpoint — is the head injury issue, which remains unresolved due to the inherent violent nature of the game. But it's scary to reckon all the other issues the league is dealing with outside of the one that is causing permanent brain damage to most of its participants. As if that wasn't enough.
Then, there's the Richie Incognito-Jonathan Martin incident from last year, which raised eyebrows about how locker rooms operate, and the greater issue of the use of the N-word in the locker room. There's also Ray Rice, who is coming off a very public domestic abuse incident, followed by a breathtakingly horrifying press conference that seemed to conveniently tell everyone to move on.
Dungy's remarks may have ignited a lot of criticism — most of them just — toward him. But truthfully, it's far more frightening to reckon his remarks within the context of the NFL's wider picture — to consider all that is currently broken about the league. It's hard to sit here and think that Roger Goodell and crew have a handle on how they can actually work toward improving the locker room culture, or trust teams and players to police themselves.
The fact that Sam is the sixth-highest selling jersey this year in the NFL and the overall reaction to him publicly coming out says a lot about how far fans have come.
But that's just one part of the equation. The locker room, the views of a coach who's been in there with the entire team, remain unchanged. To challenge those assumptions and tear down the preconceptions, actual change must happen. Sam not only has to make the team, but he has to succeed, and do so without distractions.
Until we've gone through the motions and come out the other side without too much pain to deal with, Dungy's words will ring true. Only action and a unified locker room with organizational support can prove his assumptions false.