This Super Catchy Summer Anthem Holds a Powerful Message for Women Everywhere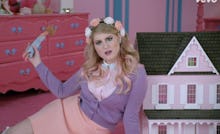 Think only skinny girls sell pop records? Think again.
A new wave of female artists have recently generated real buzz in the entertainment industry for creating empowering music breaking down atypical beauty standards — all while topping the charts. 
Enter Meghan Trainor, an up-and-comer from Nashville (originally Nantucket, Mass.), whose head-bopping single "All About That Bass" cuts through the clutter with its catchy tune and surprisingly overt messaging.
"It's pretty clear I ain't no size 2," Trainor sings in the '50s throwback summer jam, "but I can shake it shake it like I'm supposed to do." 
Trainor, 20, who has already penned hits for the likes of country powerhouse Rascal Flatts, is currently in the process of completing her first EP. Presumably her first single off the album, "All About That Bass" is being hailed for the way it cheerfully dispels stereotypes about women and body image. Call it bubblegum pop with a subversive center.
"It's impossible for a girl to live up to what we see in the magazines. ... Everyone is born to be different, and [yet] that's the thing that makes us all the same," Trainor told the Huffington Post.
Specifically, the tune takes aim at the disproportionate body standards that affect women. With a smile on her face and a crown of pastel flowers in her hair, Trainor takes jabs at "magazines working that Photoshop," highlighting the new status quo of fashion magazines skewing cover models to favor thinner body types. Trainor is having none of it. Here's a woman unwilling to "be no stick figure silicon Barbie doll, so if that's what you're into then go on and move along." 
Of course, lots of artists have attempted to relay these types of messages. Let's be honest, for better or for worse, being "true to yourself" is a hot marketing trend right now, with everyone from Dove to Pantene to tampon companies jumping on the body love bandwagon.
But Trainor's message succeeds where, say, someone like Katy Perry's "Firework" ode does not, due in large part to her palpable authenticity. This is not a Barbie-thin singer railing against Barbie-thin beauty standards or a silky-tongued John Legend beseeching women to realize their true worth — clearly, Trainor knows her subject matter.
"I definitely wrote it for myself because I struggled with that forever," Trainor told TODAY recently. "With social media, with Instagram and selfies and all these apps that are trying to make you look perfect ... it's hard for girls to grow up nowadays with all that stuff."
Indeed, there are now apps to make your selfies look thinner, the Internet is full of dieting "thinspiration" sites — and who could forget the infamous "thigh gap" trend of 2013?
With over 5 million views on YouTube and a Billboard Hot 100 ranking climbing into the 50s, "All About That Bass" has the popularity to potentially make a difference. If anything, Trainor has proved that women can put their money where their mouth is when it comes to body positivity. And be rewarded for their honesty.
Image Credit: YouTube