Everyone Is Decidedly Creeped Out by Woody Allen's New Movie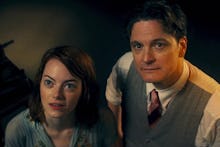 Magic In the Moonlight has not excited critics the same way the Oscar-winning Blue Jasmine did, but it has creeped them out considerably more. The movie might have been seen by some as a harmless, "fugacious bit of whimsy," but far more people are concerned about the continuation of one of Allen's oldest themes: relationships with big age imbalances.
The return to this dynamic, with this film's romance between Colin Firth (53) and Emma Stone (25), seems all the creepier, considering how 2014 has gone for Allen so far. Critics and audiences seem less than thrilled to entertain a story which seems to muddle Allen's work with his real life issues.
Earlier this year, Allen's adopted daughter, Dylan Farrow, revisited allegations that Allen had molested her as a child in a letter published in the New York Times. Courts cleared Allen of all charges when he was formally prosecuted in 1993, but Farrow calling attention to the charges, plus Allen's heated response days later, added fuel to an ongoing debate among Allen fans. Can you still like the art of someone accused of such terrible acts? Should art and personal life be entirely separate? And what do we as viewers do with the repeated Allen trope of a May-December romance in his plotlines?
The 28-year age difference between Stone and Firth in Magic in the Moonlight is certainly nothing equivalent to the allegations against Allen, but a 28-year age difference still ignites the ick factor, especially with the Farrow accusations fresh in everyone's minds.
Of course, this is not the first time that Allen has depicted a relationship dependent upon, or at least defined by, a massive age difference. The plot of Allen's Manhattan, finds Allen (then 44) dating a 17-year-old high school senior. 
Allen's last few films have toned down the age differences to some extent. Central couples in his recent movies have included Alec Baldwin (56) and Cate Blanchett (45) in Blue Jasmine, Scarlett Johansson (29) and Javier Bardem (45) in Vicky Cristina Barcelona, and Owen Wilson (45) and Rachel McAdams (35) in Midnight in Paris; all younger women with older men, although no gap as vast as in Magic in the Moonlight or Manhattan.
But here, in this particularly controversial year for Allen, the pattern returns full throttle. As the critics at BuzzFeed noted, the Firth/Stone relationship "falls somewhere between romantic and paternalistic, which has all sorts of unfortunate resonances with the Farrow case and Allen's current relationship [with Soon-Yi Previn, 35 years his junior and adopted daughter of former partner Mia Farrow]."
Image Credit: Sony Classics
It may be unfair to project so much concern onto this narrative choice, however. In a recent interview with the New York Times, Allen seemed keen to remind people that his art and his personal life are different. When asked if he feared whether outrage from the Farrow letter might affect ticket sales, he said, "No thoughts like that occur to me, they only occur to you guys." Indeed, the concern around the film's parallels to Allen's life has been a bigger part of the discourse around Magic in the Moonlight than was Roman Polanski's conviction for child sex offences when Venus in Fur came out last year.
Critics Kate Arthur and Alison Willmore again at Buzzfeed argued that maybe it's the "unignorable Woody Allen-ness of Woody Allen's movies that's become the obstacle." When so much of Allen is in his movies, including often his own performances, it seems impossible to expect us to separate the creator and the product.
Image credit: Sony Classics
Allen has made a career of making movies that are very "him," with a distinct style of dialogue and a breed of beautiful neurotics at the helm of every picture. For a suspiciously autobiographical pair of leads to headline his latest work, so soon after unproved but impassioned accusations from Dylan Farrow, it seems perfectly natural for so many to be a little bit creeped out.