If You Like Sia's New Album, Check Out Her Amazing Versions of These Major Pop Songs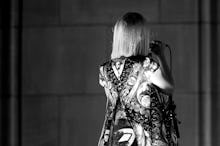 Last year, Sia Furler wrote a short anti-fame manifesto. She began: "If anyone besides famous people knew what it was like to be a famous person, they would never want to be famous." 
But sometimes, fame is inevitable. For years, Sia has written a freakish number of hits for other pop stars while keeping well away from the spotlight, but her raw talent is inescapably magnetic. With a smash hit of her own and a number one album, she's officially become her own star.
For years, though, she's been studying other peoples' stardom. Her album is called 1000 Forms of Fear, and if you look through her back catalogue, you'll find 1,000 forms of Sia. As an incredibly talented songwriter, she has proven over and over again that she can become the pop stars she writes for — in fact, on Rihanna's "Diamonds," Rihanna liked Sia's demo recording so much that she worked hard to sing it exactly like the writer. Sia has always been a master of throwing her voice.
Here are 11 amazing covers and demos that reveal Sia's vocal genius for what it really is. She isn't just another pop star, she's all of them in one:
1. "Time After Time" by Cyndi Lauper
The iconic '80s track was one of Lauper's most successful hits, and is often noted as one of the greatest love songs of all time. Sia is among many others who've given it their own twist, including Miles Davis' instrumental rendition and Eva Cassidy's album of the same name. She channels Lauper effortlessly in this live version, preserving that same warm resonance in its verses.
2. "How Deep Is Your Love" by The Bee Gees
The Bird and the Bee, comprised of Greg Kurstin and Inara George, enlisted Sia in this cover for their 2007 Please Clap Your Hands EP. The original 1977 classic, which is listed at No. 22 on Billboard's All-Time Top 100 Songs, has been covered by everyone from David Hasselhoff to the Backstreet Boys. But alongside The Bird and the Bee, Sia's vocals add a soft and feminine touch.
3. "Gimme More" by Britney Spears
If it wasn't for the repetitive chorus, it'd be hard to tell that this was originally the famous Spears' hit. Sia's acoustic rendition is instead kept bare with haunting synths and minimal guitar, emphasizing the song's minor key. She reveals completely new emotions in its lyrics, but this time: "It's Sia, bitch."
4. "Let Me Love You (Until You Learn to Love Yourself)" by Ne-Yo
Sia is partially responsible for writing the dance-club hit back in 2012, originally building the chorus on her own. Later, when Ne-Yo heard the demo, he was inspired by her chorus and re-wrote some of its verses around the title. But this short excerpt of Sia's demo shows a slower, more emotional side than the official version. 
5. "Loved Me Back to Life" by Celine Dion
Sia's demo for the Celine Dion smash reveals just how closely the pop star adhered to her songwriter's forceful vocal performance. Especially on the chorus, you can hear Sia laying an exact blueprint for Dion's take. Still, no one can compete with Dion's in-studio interpretive dancing.
6. "Oh Father" by Madonna
This pop-ballad was a featured cover on Sia's 2010 album, We Are Born. The original lyrics are some of Madonna's darkest, showcasing her fragile and emotional relationship with her own father, Tony Ciccone. Sia's version is lighter and quirkier in its instrumentals, but it was also praised for its ability to recall "any number of tortured '90s alt-rock songstresses."
7. "Paranoid Android" by Radiohead
Radiohead's six-and-a-half minute anthem made for an unusual single for their 1997 album, Ok Computer, but it's an iconic representation of a brilliant band. The song's four distinct sections (each written by a different band member) translated well to cover versions; Sia's orchestral rendition was included on the tribute album Exit Music: Songs with Radio Heads in 2006, as well as an episode of The O.C. that same year.
8. "You're The One That I Want" from Grease
Beck and Sia channel Danny and Sandy in this live acoustic cover of the timeless Grease closer, one of the best-selling singles of all time. However, this version is slowed down and — unlike the original — is performed by two of the greatest songwriters ever.
9. "Under The Milky Way" by The Church
One of the better-known hits from alt-rock band The Church, "Under The Milky Way" has been featured in Donnie Darko and covered by symphony orchestras. Sia's version doesn't stray too far from the original, though she does occasional tap into a nasalness reminiscent of Alanis Morissette in the verses. Interestingly, this cover was also recorded exclusively for a Lincoln MKT car commercial in 2009 before its full release in 2010.
10. "Diamonds" by Rihanna
Sia wrote Rihanna's "Diamonds" in 14 minutes. It became one of the pop star's biggest hits, but Sia was eager to stay away from its fame. That changed, however, when the songwriter got onstage at the Norwegian-American Achievement Awards in 2012 to perform her single — alone. Her heartbreakingly powerful repetitions of the chorus toward the end are evidence that it's really been her song all along.
11. "I Go To Sleep" by The Pretenders
"I Go To Sleep" initially belonged to the Kinks; it was written by Ray Davies in a late '60s demo, but never actually recorded by the entire band. However, The Pretenders brought it back to life in 1981 — and then Sia revived it again in 2008's Some People Have Real Problems. The song's theme fits perfectly into this live performance from Sydney. Sia and her band are periodically shrouded in darkness as the song progresses, drawing attention to Sia's shadowed face.