An Algerian Plane With 116 On Board Has Crashed, Officials Confirm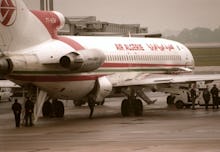 This is a developing story. We will publish more updates as they become available. Follow @World_Mic on Twitter for the latest updates.
Air Algerie says Flight AH5017 crashed in Tilemsi, Mali — a desert area with a population less than 3,000. Mali's president says wreckage of the flight has been spotted between northern towns of Aguelhoc and Kidal.
Air navigation services lost track of AH5017, a Swiftair MD-83 jet, about 50 minutes after takeoff from Ougadougou, the capital of Burkina Faso, at 1:55 a.m. GMT (9:55 pm EST on Wednesday night), the official Algerian news agency said. That means Flight 5017 had been missing for hours before the news was made public.
Swiftair, a private Spanish airline that provided the plane to Air Algerie, said in a statement that its MD83 aircraft was carrying 110 passengers and six crew members.
The AP reports the plane went missing over Mali, a country experiencing conflict between the government and rebels in the northern region. According to Burkina Faso's Ministry of Transport, the pilot of Flight AH5017 asked to modify his flight path due to bad weather conditions.
The airport where the flight originated published a map of where the plane was traveling when it disappeared from radar, adding that it's likely a crash zone:
At the time of the crash, this was the weather in the region:
A list of passengers on the missing Air Algerie flight includes
- 51 French,
- 27 Burkina Faso nationals,
- 8 Lebanese,
- 6 Algerians,
- 5 Canadians,
- 4 Germans,
- 2 Luxemburg nationals,
- 1 Swiss, 1 Belgium, 1 Egyptian, 1 Ukrainian, 1 Nigerian, 1 Cameroonian and 1 Malian, Burkina Faso Transport Minister Jean Bertin Ouedraogo says. Six crew members are Spanish, according to the Spanish pilots' union.
This is the third jetliner in less than a week that has crashed.
The disappearance comes following a particularly tumultuous week for air travel. Last week, Malaysia Airlines Flight MH17 was shot down by Ukrainian separatists over eastern Ukraine, killing all 298 on board.
On Thursday, 48 people were killed and 10 injured after TransAsia Airways Flight 222 made an emergency landing in the outlying Penghu islands of the coast of Taiwan, marking the country's deadliest plane crash in more than a decade.