International Air Travel Has Reached the Point of Peak Absurdity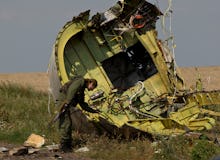 Remember when our only fears about air travel were long uncomfortable waits, invasive scans and sky-high prices? Those were the days.
Between a missile strike, a deadly crash landing and a potentially diastrous sandstorm in the past week alone, it's enough to make you tear up your boarding pass and stick to train travel. Or just pick a corner of your living room and sit inside forever. Because it feels like air travel is becoming more like Russian roulette.
Today's incident, the third major crash in a week: An Air Algerie flight carrying 116 people disappeared from radar over Mali on Thursday, adding to what has been a grim week for air travel.
Flight AH5017, a Swiftair MD-83 jet, was flying from Ouagadougou, the capital of Burkina Faso, to Algiers, the capital of Algeria. It took off 1:17 a.m. local time and was supposed to land at 5:10 a.m., but an Algerian aviation official told Reuters that the country lost contact with the plane at 1:55 a.m. Authorities in Burkina Faso said the plane checked in with a control tower in Niger at 1:38 a.m., but they lost touch with it just after 4:30 a.m.
Image credit: BBC
Though the plane lost contact over Mali — a hotzone of civil war and rebel fighting — it is not immediately believed foul play is at hand. 
"The plane was not far from the Algerian frontier when the crew was asked to make a detour because of poor visibility and to prevent the risk of collision with another aircraft on the Algiers-Bamako route," an Air Algerie source told AFP news agency. "Contact was lost after the change of course."
This was the weather situation in the area at the time: 
A diplomat in Bamako, the capital of Mali, told Reuters that there was a powerful sandstorm in the north part of the country overnight.
Yesterday it happened in Taiwan: TransAsia Airways Flight 222 crashed off the coast of Taiwan, killing at least 48 and leaving 10 injured. It was the deadliest crash in Taiwan in more than a decade — a 2002 China Airlines flight broke apart in mid-air, killing 225 people.
Bad weather was likely a factor in the crash, though Taiwanese authorities are still investigating. Typhoon Matmo hit Taiwan on Wednesday, bringing heavy rain and winds. The pilot was attempting an emergency landing in the Penghu islands before the control tower lost contact.
And that's just the tip of the iceberg: Last week, Malaysian Airlines Flight MH17 was shot down over Ukraine on its way from Amsterdam to Kuala Lumpur. 283 passengers and 15 crew members were killed.
The region where it crashed has seen fierce fighting between Ukrainian forces and pro-Russian rebels, and U.S. intelligence says the plane was shot down with a surface-to-air missile. The U.S. and Ukraine are blaming rebels armed by Russia, while Russia is blaming Ukraine. Evidence suggests the former explanation, with the Ukrainian Security Service releasing tapes in which voices it identifies as separatists discussing the downing of the plane.
The search is on: While Mali has also seen fighting in its northern region — the country is classified as a "high-risk" flight zone — a French official told the Associated Press that it's unlikely Flight AH5017 was shot down, because fighters don't have the technology to hit aircraft at cruising altitude.
Burkina Faso, Mali, Niger, Algeria, France and Spain are all working to find the missing plane. Expect more updates as the search continues.
This story has been updated.