One Photo Shows Just How Bad the Anti-Israeli Backlash Is Becoming Around the World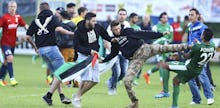 In soccer, summer friendlies are intended to be just that.
On Wednesday night in Bischofshofen, Austria, however, about 20 anti-Israeli protesters hijacked the exhibition match between Israel's Maccabi Haifa and France's Lille by storming the field and attacking the Maccabi Haifa players.
Carrying Palestinian flags, the protesters, reportedly mostly Austrians of Turkish descent, unleashed a series of kicks and punches towards the Israeli players, some of whom fought back. The Maccabi Haifa players left the field unhurt, with the rest of the game being promptly abandoned.
Maccabi Haifa, historically the most successful team in the Israeli Premier League, actually has a long history of incorporating Muslim and Arab players into its side. In fact, six of the players currently on the team fit that bill — not that the thugs knew or cared.
The attack came as the latest in a series of violent anti-Israeli actions occurring throughout Europe, as the crisis in Gaza continues to escalate. It is believed to be the first such assault on Israeli athletes since the crisis began.
"This didn't happen because of sport or football, it happened because we are a team which represents Israel," the club said in a statement.
Israeli athletes, ever since the horrific massacre of 11 Olympians during the 1972 Munich Games, are supposed to have extra protection when traveling abroad. Unfortunately not even a preseason soccer game in the shadow of the Alps is safe for now.