Why Robyn Is Still the Undisputed Queen of the New Pop Music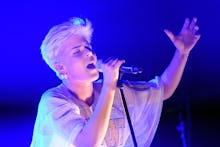 In 2011, Robyn became a meme. Although she'd been singing and performing since 1995, the Swedish pixie girl's biggest introduction to American audiences came by way of Saturday Night Live's Taran Killam, who writhed and panted his way through Robyn's "Call Your Girlfriend" on his own in a tiny office.
Three years later, Robyn has transformed from a meme into a deity. Her latest EP, Do It Again, was released in May to enthusiastic reviews. She's on tour behind it now, but when she released a fiery music video for the title song on Tuesday, the music world shifted focus immediately. That's because Robyn is unlike most every other female pop star, and most of them are following her lead. She's pioneered the biggest recent shift in American pop with her refusal to sugarcoat even the biggest anthems and her dedication to cathartic darkness. When she makes a move, everyone watches.
Robyn won our hearts on 2010's "Body Talk" by not giving us access to hers. While Ke$ha slurred onto the dance floor and Lady Gaga overpowered all of our senses, Robyn remained aloof, steely, distinctly foreign: a self-proclaimed indestructible "fembot." She made it very clear that she would rather dance on her own and sneer at everyone in the middle of the dance floor, men and trends be damned.
But at some point in the last three years, the party came to her. Robyn's dark, pulsating synthesizers and razor-sharp melodies began to crop up in Katy Perry songs, and other oddball foreign chanteuses like Charli XCX and Sia suddenly found themselves in the spotlight after following in the path she's paved.
That's largely because Robyn's home country of Sweden has blown up in a big way, and it's riding, in part, on her success. Before Robyn there was pop savant Max Martin, who essentially made Britney Spears' career (at least the good part) and has written consistently for all the biggest acts in pop music. Robyn's steadily growing career moved Swedes from behind-the-scenes to the forefront. There's been an absolute renaissance: bouncy EDM masters Avicii and Swedish House Mafia; sly song makers The Knife, Little Dragon, and Lykke Li; and of course, the anthemic Icona Pop. They all share Robyn's blending of American melodies with electronic European sounds, as well as her sleek charm and unwavering commitment to making people dance.
On "Do It Again," Robyn is ahead of the pack again. The title song at first appears a straightforward celebratory ear worm in the vein of Daft Punk's "One More Time," complete with sugar-coated riffs and unyielding repetition. But there's a signature darkness there as well when Robyn wails, "it hurts so good / I don't wanna stop / I know I should." The song's music video brings out the tension beautifully by using a whirlwind of black and white images of sex, revolution, torture and disease. They all meld and reveal that Robyn has far more on her mind than her Miley Cyrus-like call of "we do what we want" might otherwise have suggested.
The rest of her new album is weirder than anything else she's done, showing that the rest of the world will have to run faster to keep up with her. Perhaps she could have worked with the biggest name producer she could find, but she's instead recruited her Norwegian pals Röyksopp and given them equal billing on the project. In return, they've given her a set of dark, sickly sweet beats that would provide an apt soundtrack for a new-age noir film. And while pop nowadays is largely driven by synthesized adrenaline rushes, songs like "Monument" are more concerned with the buildup and the simmer. It's music that constantly leaves you on edge — somewhere between the dance floor and the dark, lonely corners of the room.
But the Robyn beneficiaries keep on coming: edgy indie-darlings FKA Twigs and Jessie Ware both have albums coming out this year, and fellow Swedish pop star Mø will start a huge tour following her smash album, No Mythologies To Follow. Robyn may be pint-sized, but she is changing the music landscape in a gigantic way, with one moody dance anthem at a time.