Photographer Documents Transition from Female to Male in Intimate Portrait Project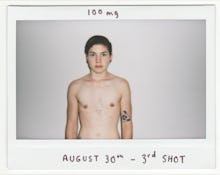 Nowadays, whenever there's a story about transgender people in the media, reporters and the public alike tend to focus on what's between a person's legs — case in point: what happened with Carmen Carerra and Laverne Cox during their appearance on Katie, the Katie Couric Show.
But one Toronto-based trans artist opted to invite the public into his own, self-documented transition.
Wynne Neilly, an award-winning photographer who specializes in portraiture work examining the complexities of human gender expression, seized the opportunity one year into the transition process, when he began hormone therapy. The resulting artwork, "Female to 'Male,'" is a self-portrait project with weekly photographs, recorded vocal changes, documents and objects that represent a segment or moment in his gender exploration.
This intimate look into his experiencedocuments the psychical, psychological and medical changes that occur during transition. The transition process differs for each individual but most procedures take a couple of years, exhausting doctor appointments and a hefty sum of cash. Indeed, the process can be quite emotionally and psychically draining.
"My goal is to add to the visibility of different trans experiences. I absolutely cannot speak or create art for every trans person, but I can create something that speaks to my own personal journey," Neilly told Mic. "I am really laying myself out for people to analyze, so it is very important to me that people take the time to appreciate the work as a whole, but also all of the small details within each segment of the exhibition." 
Neilly noted that the process is indeed intimate, but that it never felt invasive to him. He began the project for himself, so that he'd have a visual record of all the changes he was going through. Not long after he embarked on the photo project, Neilly learned that his work would be featured at the Ryerson Image Centre in Toronto. "This awareness going into the project allowed me to mentally prepare myself for sharing it publicly in the future," he said.
Neilly will be sharing his project "Female to 'Male'" in an exhibition that opened July 23 and will be on display until August 24 at the Ryerson Image Centre. Through his art, Neilly hopes that people can understand that transitioning is truly a challenging process.
"I have on display many different documents and letters and doctors' notes that have been a part of that process, and when I look at them all together I find myself a bit exhausted at how difficult it can be to access trans healthcare at times," Neilly said. "I hope that viewers can at least have a better perspective on what my process has been like for me."
Images Credits (all): Wynne Neilly