This Transgender Model Just Took a Brave Step in the World of Fashion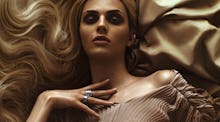 The news: In a major move for the transgender community, high-fashion model Andreja Pejic publicly came out as a transgender woman on Thursday. Pejic — previously known to the world as Andrej — revealed in an interview with People magazine that she had sex reassignment surgery this year. 
Image Credit: Getty
Her inspiring message — and brave decision to open up about it to a major magazine — places her firmly in the blossoming ranks of openly transgender entertainers.
She burst onto the modelling scene in 2011 and was an instant hit for her androgynous look and ability to model both menswear and womenswear. She was also the target of some offensive commentary; her gender-fluid modelling work invited a great deal of tired and insensitive media coverage that focused obsessively on her sexuality.
"I was proud of my gender nonconforming career," she told People. "But my biggest dream was to be comfortable in my own body. I have to be true to myself and the career is just going to have to fit around that." 
People are lining up to express their support. 
She's in good company. Pejic will join other openly transgender models, including Isis King, a former contestant on America's Next Top Model, and Jenna Talackova, who was disqualified from, and then fought her way back into, the Miss Universe Canada Pageant. And this spring, luxury department store Barney's debuted a campaign that featured 17 transgender models.
Outside of the fashion world, stars like Orange Is the New Black actress Laverne Cox and advocate Chaz Bono are also making waves in the transgender community. Pejic told People that she agrees with Cox, who focuses on activism instead of sexuality. "What's in between anyone's legs is not who they are," she said.
An inspiring move: As one Twitter user noted, Pejic has simply decided to share her life with the world; she's always been a woman. But the act of taking it public is an incredibly strong one, and it's important that this is recognized.
The increasing visibility of people like Cox and Pejic show that transgender entertainers aren't afraid to show the world who they really are, and that's a victory we should all celebrate.