'Orange Is the New Black' Star Laverne Cox Just Made TV History in a Huge Way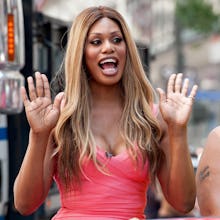 When you watch the Emmy Awards on Aug. 25, you will witness living history: For the first time ever, a transgender actress's name will be read aloud as an Emmy nominee.
Laverne Cox, who delivers a riveting, nuanced portrayal of transgender inmate Sophia Burset in the Netflix series Orange Is the New Black, was nominated for Outstanding Guest Actress in a Comedy Series, announced Thursday morning by the Academy of Television Arts & Sciences. It is the first time a transgender actress has been recognized in this way by the television equivalent of the Academy Awards.
Cox is in good company this year, one among a diverse field of 12 fellow actors who are also nominated for playing LGBT characters on mainstream television and online streaming networks, including OITNB co-stars Natasha Lyonne (Nicky Nichols) and Uzo Aduba (Suzanne "Crazy Eyes" Warren).
This has been the year of Laverne. The actress, born in Mobile, Ala., has been an unstoppable presence in media and advocacy lately: She served as Grand Marshall at this year's New York City Pride Parade and was also honored with her OITNB castmates at Logo TV's "Trailblazers" awards special. To top it all off, she landed the cover of TIME Magazine in May, another first for a transgender woman. 
Image Credit: Laverne Cox via Instagram
What makes Cox's sudden mainstream appeal so important, however, is the way the actress has been able to use her media attention to educate Amercians about transgender rights, while also being careful not to overshadow the narratives of her trans brothers and sisters. 
"It's about listening to transgender people and taking the lead from trans folks. The reality is that I don't represent the entirety of the trans community; there are multiple experiences and multiple relationships to one's identity," Cox told TIME, emphasizing the importance of intersectionality in an interview for the historic cover story.
"It's really about listening to individuals, how they define and describe themselves and taking people at their word." 
Burset's story on OITNB is itself fairly transformative, making Cox's nomination an all-the-more relevant and monumental moment for the television industry. She portrays an inmate who was jailed for credit card fraud while attempting to finance gender affirming surgeries in line with her transition. In the midst of an otherwise comical — yet poignant — TV series, Cox has elevated an important conversation about the obstacles that trans people, in and out of the prison industrial complex, face while attempting to get the same health care coverage that their cisgender counterparts may otherwise take for granted.
Image Credit: Getty
In many ways, the portrayal also shatters stereotypes about black women's ability to advocate for their causes, as well as trans women and their romantic relationships, given that Cox's character is married to a woman and has a young son.
With so many television shows and news programs promoting disgusting tropes about transgender people — including an obsession with genitals and physical characteristics, a panic over bathrooms and the flagrant use of slurs such as tranny and she-male — this moment in television history sends a crucial message to American audiences: Transgender actors and their authentic stories are here to stay.