Here's Your First Glimpse of the New Wonder Woman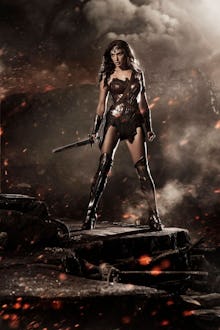 The news: Meet the new, and much edgier, Wonder Woman.
Image Credit: Zach Snyder via Clay Enos/Warner Bros.
At San Diego Comic Con on Saturday, Batman v. Superman: Dawn of Justice director Zach Snyder gave fans their first glimpse of the fresh face who will kick villain butt brandishing a sword, heels and a super badass costume. 
Played by Gal Gadot, the movie will bring together Wonder Woman with Ben Affleck's Batman and Henry Cavill's Superman in an epic DC superhero standoff. It's especially exciting considering Snyder's rendition reinvigorates the female superhero and places her on the same pedestal as her male counterparts.
A female crime-fighter: The superhero arena has long been a male-dominated one. And in past iterations, even if a woman was present, she was not the sexed-up, leather-clad vixen that Gadot's version reflects. Case in point is Lynda Carter's 1970s Wonder Woman. 
Image Credit: AP
Carter's patriotic-infused get-up is no where to be found on Gadot. Many fans are saying that the Israeli actress's outfit looks more Xena than Wonder Woman, though the new version is reminiscent of the old, with both having thigh-high boots, a headband and wristbands. But Gadot is a 21st century superhero. 
After Snyder tweeted the image of the new Wonder Woman, fans quickly took to airing both their praise and complaints.
In mid-July, Marvel announced that they will make the macho Thor into a woman, another refreshing editorial decision. Marvel and Snyder's decisions are reflective of what is to come: the female superhero who is just as powerful and emblematic as her male counterparts. 
While fans will have to wait to see Gadot's Wonder Woman on the big screen until May 6, 2016, the first image is enough to fuel a profound sense of empowerment for the time being. The new Wonder Woman is a sexy, tough and strong crime-fighting superhero no one will want to screw with.