The 13 Things You Absolutely Must Know From This Year's Comic-Con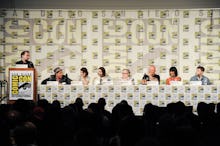 Few events are more exciting for film and TV fans than Comic-Con. Twice a year, the event has become a major staple in the entertainment world and is traditionally where cult TV shows and movie series announce new spin-offs, sequels and cast members. The year 2014 offered up another fantastic year of reveals, revelations and revolutions in a field that is changing both how it is distributed and what it wants to distribute.
Here are the big things you should know from the Californian convention this year.
1. Quentin Tarantino confirms 'The Hateful Eight.'
Tarantino took the opportunity to announce that his new movie, The Hateful Eight, would indeed be going ahead. The movie, about a group of post-Civil War bounty hunters caught in a blizzard, was almost scrapped after the script leaked in January and Tarantino refused to continue with it.
Luckily, he has decided to go ahead with it after all. So get ready for more blood and swearing on our screens in the next year.
2. 'The Penguins of Madagascar' was announced to Benedict Cumberbatch fans' delight.
DreamWorks went all-out for their panel, focusing on the announcement of The Penguins of Madagascar, which will take the beloved birds from Madagascar and give them their own motion picture. The film looks set to continue the penguins' particular breed of delusional but straight-faced comedy, with pop culture references sprinkled throughout.
The panel was almost hijacked by fans of Cumberbatch, though, thanks to his appearance to promote his role in the movie. The Q&A became almost entirely focused on him. Luckily, he was gracious enough to try and include everyone else, including cast member John Malkovich.
3. The first footage of 'The Simpsons' 'Family Guy' crossover episode was revealed.
After years of hostile comparisons and jokes within both shows aimed at the other, The Simpsons and Family Guy are finally uniting for an hour-long special to be broadcast in September.
Comic-Con gave us five minutes of footage focusing on Homer and Bart's scenes with Peter and Stewie, showing that Family Guy's darker, more adult sense of humor will be playing up against the comparatively more family-friendly Simpsons.
4. 'Game of Thrones' announced its new Dorn cast members.
After months of speculation, the cast has been announced for the new characters appearing in Dorn on the next season of Game of Thrones, as well as Jonathan Pryce being drafted in to play the High Sparrow in Kings Landing. A necessary addition, considering the resident classically trained British actor Charles Dance was bumped off at season's end.
Also, the blooper reel is fantastic and can't be shared enough.
5. 'The Last Of Us' is becoming a movie.
The 2013 video game The Last of Us has been hailed as a masterpiece, and has recently been getting as much attention for its writing and story as it has for its beautiful visuals. A rehearsed reading will take place in Santa Monica, Calif., this week and, even more excitingly, this weekend it was announced that a movie is in the works.
Director Sam Raimi (Evil Dead, Spider-Man) and the team are hoping to bring on Maisie Williams as Ellie, the 14-year-old girl at the heart of the game's storyline. This also marks the second movie to be announced from a game by Naughty Dog Studios: They are also working on a movie of the game Uncharted.
6. Peggy Carter is getting her own female superhero spin-off.
Hayley Atwell as Peggy was such a cracking addition to Captain America's first cinematic outing that she's now getting her own spin-off. The original S.H.I.E.L.D agent and kick-ass wartime feminist will be getting her own 1940s action hero drama. Which is perfect, because Atwell already did exactly that with aplomb in Restless for the BBC in 2012 so she knows the territory by heart.
7. The Women Who Kick Ass Panel was fantastic.
If the articles and studies about sexual assault left you feeling like Comic-Con wasn't forward-thinking when it comes to the ladies, the Women Who Kick Ass panel existed to provide some hope. Now a tradition at the event, the panel included of Williams and Natalie Dormer of Game of Thrones, Sarah Paulson from American Horror Story, Katey Sagal from Sons of Anarchy and Tatiana Maslany from Orphan Black, among others.
Like other well-established panels at Comic-Con such as The Black Panel, the discussion evaluates and considers the place and work of women in the entertainment industry. The discussion really hit home when the actresses discussed not only pushing past their own limits but those the industry imposes on them as well.
8. Marvel went full-throttle with 'Ant-Man.'
In Marvel's Midas-like quest to turn their old products into huge blockbusters, Ant-Man has proven the hardest to get off the ground. It was recently announced that several cast members have left the project.
But the panel at Comic-Con not only gave some hope that the movie still had some life in it, but was also one of the few new products Marvel had to peddle, along with a brief teaser of a Guardians of the Galaxy sequel and some new footage of the long-awaited Age of Ultron. With a charming lead like Paul Rudd and a supporting cast including Michael Douglas and Evangeline Lilly, it's hard to not get excited about it, even if Ant-Man's power consists entirely of size-shifting.
9. 'Community's' new format was explained.
Now that Community is assuredly going to manage a sixth season under Yahoo, how the show will get distributed has been explained to fans: one episode a week, just like it used to be instead of a huge bingeable load all at once.
Showrunner Dan Harmon also mentioned there may be an all-Pokemon episode, which might be the most ludicrous and wonderful thing that was announced all day.
10. George R.R. Martin will not be writing an episode of season five.
Martin seems reluctant to give us any signs of the next Song of Ice and Fire book, instead teasing us with the odd morsel to try and tide over baying fans. As the show gets ever closer to overtaking the literature, Martin has opted out of writing an episode of season five to keep writing the novel.
This is a shame because Martin's episodes — traditionally he writes one per season — have been some of the show's best. The battle of Blackwater and the Purple Wedding would have been far lesser events without his fine work, but hopefully the other talented writers will bring season five equally to life.
11. More 'Godzilla' movies are on their way.
Just in case you hadn't had enough monster movie fun with the Godzilla reboot this year, the plan is to keep doing sequels with all of the reptile's old enemies like Mothra and Ghidorah. Again.
There hasn't been an announcement on the cast, but director Gareth Edwards will return for the insanely successful reboot.
12. 'The Legend of Korra' is moving to online distribution only.
Even after a rocky second season, The Legend of Korra is one of the best fantasy TV shows. But it has the problem of Nickelodeon to contend with. After the original Avatar series ended with poor scheduling on the network's part, hopes were high that Korra might get a better chance. But Nickelodeon — after announcing the show's launch a week before it aired due to leaks from a Mexican affiliate — has now pulled it from the air.
Luckily, Comic-Con served as a chance for the beloved show to announce they're moving into online distribution for the rest of the third season and the entire fourth season. It's a great sign if a show with a strong enough fanbase can find distribution and recognition even when networks mess them around (here's looking at you, Community.)
13. The first glimpse of Wonder Woman was revealed.
Zak Snyder continued to reveal dour, colorless portrayals of bright superheroes with his take on Wonder Woman. After speaking at Comic-Con, he tweeted the first image of Gal Gadot as the Amazonian warrior that lacks color, or a proper skirt, but it looks like an interesting return to the antiquity of the Amazonian people. Although apparently she still decided to wear heels into combat.