With One Simple Phrase, Women Across the Internet Are Taking a Stand Against Rape Culture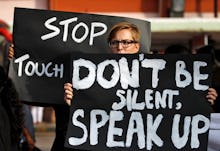 The life-altering experience of surviving sexual assault can leave many questions unanswered and women and men are often too scared or too uncomfortable to reach out for formal support.
An empowering new grassroots effort to help the many victims of sexual violence is quickly turning into something of an Internet phenomenon. Strangers across the web get together to share stories and offer solace through the Tumblr, "I Believe You | It's Not Your Fault."
"I Believe You" is growing at a rapid pace. Representing the wide variety of ways women and men are victimized in America, the stories shared there can be difficult to read and they highlight abuses of power, disrespect and dehumanization with one important emphasis — we believe your stories, and they are not your fault.
Image Credit: I believe you | it's not your fault
The page, which also bears that very title, has been flooded with heart-wrenching stories within the past week about how women have been violated, have felt negated and have suffered deep trauma and anguish when their experiences were belittled by those in whom they trusted — fathers, mothers and even friends. But this is not just a confessions page for women to reveal horrible accounts of rape, assault and violation.
"I Believe You | It's Not Your Fault" functions as a community where women offer support to teenagers and other women going through experiences they are too scared to share, and to tell them there is someone who trusts in them, no matter what. This serves a potentially inspirational, purposeful and even educational purpose. These women write about intimate situations where they didn't know that they could say "no" or when they blamed themselves for being abused, so that readers can understand that they are not alone.  
Image Credit: I Believe You | It's Not Your Fault.
The page, started by Jezebel staff writer Lindy West, was born of an idea when someone on an online writer's group posed the question: "Is there anything out there like a Girl's Guide to Rape Culture?" The female questioner was trying to tell her daughter's 12-year-old friend about victim-blaming, slut-shaming, boundaries and consent in an empowering way. Ever since West started the blog last week, her inbox has been flooded with stories of women wanting to reach out. 
The posts are usually addressed "Dear Teenager," or "Dear Younger Sister," in hopes of creating an online resource guide for young girls. But the page is actually a space where all genders can contribute and participate in the conversation.
"I just want it to feel like a big giant rock: we believe you, it's not your fault, you didn't do anything wrong, this has happened to so many people before you, and here's how we dealt with it," West told ThinkProgress. 
On the blog, women narrate situations where they questioned themselves — was it really rape if he was my friend and I thought we could date? How did I not know that some guys would say anything to get in your pants?
Another anonymous post talks about how a woman couldn't believe that her friend had really assaulted her, despite the fact that she didn't want it, and she expresses the doubts that crept in afterwards.
"It took me nearly a year to come to terms with the fact that I'd been raped. I wanted so badly for it to have been a misunderstanding," she wrote, adding that this is the support she wants to leave readers with. "If your reactions were confusing and don't fit the narrative of what our culture identifies as rape, that doesn't mean anything. Each attack is different, perpetrated by a different person under different circumstances, and each survivor is different, too."
Image Credit: I Believe You | It's Not Your Fault.
Unfortunately, mainstream culture discusses and thinks about rape in narrow, skewed terms — too often it accepts the "stranger in a dark alley" definition, ignoring that high school friends, relatives, boyfriends and husbands can and do rape — at significantly higher rates. Then there's the backwards discourse of blaming alcohol or even victims for the incidents. We need to teach boys not to rape, not teach girls they should know better. 
Despite continued messaging to the contrary, it is never the victim's fault. Period. Thankfully, this blog is for these survivors and the many others who haven't found a voice to know and realize that they are not at fault. And neither are they alone.
"The idea is to be a really candid safe, space for people to talk about things that have happened to them and women who have been through those things to respond," West told ThinkProgress. "There's so much pressure to not tell, especially if it's a family member who has abused you, or someone that you love, despite the abuse. And people don't want to ruin their family. So that's been really, really hard to read but really powerful. Because kids, they're teenage kids saying, 'I just wanted to tell someone, and thank you for providing this forum.'"