Horrifying Video Captures NYPD Officer Putting Pregnant Woman in Chokehold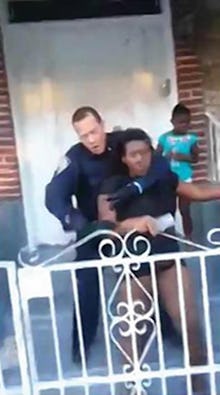 Meet the latest victim of America's police brutality problem.
Image Credit: New York Daily News
Pictured above is an NYPD officer placing pregnant Rosan Miller in a chokehold right before she was arrested for disorderly conduct on Saturday. Miller's offense: Grilling on a sidewalk, which violates local law in Brooklyn. In the photos, an officer has his arm around Miller's neck in an apparent struggle.
The photos released on Monday by People Organizing and Working for Empowerment and Respect, an East New York advocacy group, depict the hard truth about how bad police brutality has gotten. Officers aren't discriminating when it comes to who they use excessive force against — even soon-to-be mothers are potential targets. 
The incident was caught on film and is currently being investigated to determine whether cops used a chokehold, a banned NYPD tactic, on seven-months-pregnant Miller. But the evidence is in the photos.
The details: Miller was grilling on a public sidewalk outside her home with her family on Saturday. Officers appeared at the scene and a skirmish between the cops, Miller, her brother and her husband broke out.
All three were arrested in front of Miller's 7-year-old daughter. Her brother, John Miller, was booked with obstruction of justice and harassment, while her husband, Moses Miller, was charged with obstruction and resisting arrest. But pregnant Rosan Miller was the only one placed in a chokehold.
A sad trend: Miller's experience comes amidst a slew of recent, filmed NYPD police misconduct cases rocking New York City. On July 17, Staten Island father of six, Eric Garner, was approached by officers for allegedly selling untaxed cigarettes. When Garner resisted arrest, officer Daniel Pantaleo used a chokehold on him, wrestling him to the ground.
The video released in the aftermath shows Garner in the banned maneuver, repeatedly gasping "I can't breathe" until he loses consciousness. An NYPD spokesman later confirmed that as Garner "was being placed in custody, [he] went into cardiac arrest and died."
On the following Friday, officer Joel Edouard was placed on desk duty after a video surfaced showing him stomping on suspect Jahmil-El Cuffee's head while two other NYPD officers held Cuffee down on the ground earlier in the week on Wednesday. Cuffee was apprehended for suspicion of marijuana.
At least seven other incidents of excessive police force have been well documented around the country this year. And though Pantaleo and Edouard have since been placed on modified duty, that is not sending a strong enough message to officers continuing to act irrationally and aggressively toward citizens or potential suspects.
Broken window cases: Miller, Garner and Cuffee's scenarios are part of the NYPD's "broken windows" strategy that targets low-level offenses and is proving ineffective with arrests climbing in the city even as crime is nearing record lows.
"This is a good moment to re-evaluate what comes after 'broken windows,' now that the windows are no longer broken," Eric L. Adams, Brooklyn borough president and former NYPD captain reportedly said. The explosion of arrests from 1994 to 2013 does not justify cops using excessive force, especially as the majority of the arrests made are for minor offenses and misdemeanors.
Miller may be the new face of policing gone awry, and she's definitely a strong one. A pregnant woman placed in a chokehold is sign that things have gone overboard. If that is clear to the public, then it needs to be clear to NYPD and all of its officers as well.