This Moment Should Be the Absolute Last Straw for Americans Tired of Police Brutality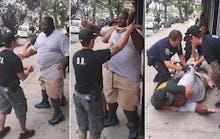 The news: The death of Staten Island father of six Eric Garner is rocking New York City. His disturbing confrontation with at least five NYPD officers, captured on video, shows how quickly police turn to brutal force.
The video shows Garner in a chokehold, gasping "I can't breathe" as police hold him down. After the footage was recorded, he was pronounced dead. Since that July 17 incident, the community has been up in arms, calling the NYPD racist and demanding change.
Numerous documented police brutality cases in the United States have occurred just this year alone. Following scandals, also caught on tape, in New Mexico, California and elsewhere, this should be the last straw for the American public. Garner's death should catalyze us to tackle America's police force acting more like thugs and less like protectors of the peace.
Details about Garner's death: Police claim that they approached Garner, a 400-pound, six-foot-four-inch asthmatic dad, because he was selling untaxed cigarettes. In the video, as officers move to apprehend him, Garner says, "I'm minding my business. Are you serious? I didn't do nothing. What'd I do?" He adds, "Every time you see me, you're messing with me. I'm tired of it. This stops today. Every time you see me, you wanna harass me ... I told you last time, please just leave me alone."
Cops then swoop in, lower him to the ground and force his head into the concrete. One officer places him in a chokehold, a move that's against department policy. Garner then screams "I can't breathe!" repeatedly until passing out. An NYPD spokesman later confirmed that as Garner "was being placed in custody, [he] went into cardiac arrest and died."
Garner was facing charges of pot possession and selling untaxed cigarettes, and was due in a Staten Island court in October. Garner's family is adamant that he didn't have cigarettes with him at the time of his death.
The NYPD announced Saturday night that officer Daniel Pantaleo, who placed Garner in the chokehold, has been stripped of his badge and gun and placed on "modified assignment," pending the outcome of probes by the district attorney and Internal Affairs. Sources told the Daily News that there were "no signs of neck trauma, such as a crushed windpipe, on the heavyset victim."
This is not an isolated incident. Just in the past few months, documentation and reports of police misconduct have been growing.
Jane Doe, July 2014. A California Highway Patrol officer chased down a woman on a Los Angeles highway and punched her at least 11 times. When she was booked, she refused to give her name.
Daniel Saenz, June 2014. In El Paso, Texas, police officer Jose Flores shot and killed Saenz while he was in police custody, handcuffed and within the security perimeter of a city jail.
Calvin Wilkes, May 2014. A stranger in Baltimore paid $15,000 to bail out Wilkes and two others after witnessing an arrest she described as "one of the worst things I've ever seen," where one suspect was beaten by police with such force that he was left bleeding from the mouth. The trio were arrested for causing a public disturbance.
Jarod Dotson, April 2014. A Knoxville, Tenn., sheriff's deputy was found "unsuitable for future employment" after he was photographed choking a University of Tennessee student until he passed out, allegedly while he was complying with officers and being placed in handcuffs.
Image Credit: John Messer
Kyle Howell, April 2014. A routine traffic stop in Long Island, N.Y., turned violent when two policemen beat Howell and left him with a broken nose, bone fractures near both eyes and facial nerve damage. The incident was an allegedly unprovoked attack.
Mario L. Crump, March 2014. Two officers in St. Louis beat Crump, who is mentally ill, so badly that he suffered two broken hands, six broken fingers and a head wound that required five staples to close.
Kokopellis Bar, Jan. 2014. In Troy, N.Y., after a bar fight erupted, several cops burst into a bar and began beating patrons. Some officers repeatedly struck patrons with batons, which are only supposed to be used when "an officer or civilian has a immediate risk of death or severe bodily injury."
According to data from TERM Life Insurance, from April 2009 to June 2010, 5,986 incidents of police misconduct were recorded across the country, resulting in 382 fatalities and nearly $350 million in settlements. But the cops were left largely unpunished. Just a handful were convicted, and even fewer served prison time.
Incidents of police brutality often go unreported. According to NBC, the nation's 17,000 law enforcement agencies set their own terms for excessive force and brutality, resulting in a "free-wheeling space" where the cops can easily justify their own misconduct. Because of this, "courts spit out wildly inconsistent results."
It's no wonder then that half of Americans say that they mistrust police, who don't seem to be held accountable for their actions. The wrongdoing in Garner's death should be a wake-up call to Americans. There have been far too many of these incidences across the country. And it needs to stop now.