This Young R&B Singer Is Doing Something Nobody Else Is in Hip-Hop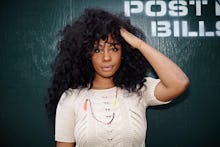 It's hard enough to tackle the daily misogyny of being a woman in the music industry. But to be the only woman on a record label that caters exclusively to male rappers and their fans takes this challenge to the next level.
That's one of many reasons we should bow down to 23-year-old SZA. Last July, the R&B singer signed to Top Dawg Entertainment, a label representing the freshman class of hip-hop heavyweights like ScHoolboy Q and Kendrick Lamar. It's a major responsibility — she is single-handedly representing women among the new guard of hip-hop and R&B. But in the year since, SZA has become a lightning rod for the kind of assumptions that routinely make the industry awful for any woman, whether or not she's on a man's label.
Apparently no one is able to look past the fact that she's a woman on an all-men's label.
In an interview with a popular New York radio station, the DJs stooped so low as to joke repeatedly that they hear she's slept with certain members of TDE — because, obviously, how else could such a remarkable singer make it onto the label? SZA told them to shut up.
Female pop stars are subjected to ridiculous double standards in every genre, and SZA's response should make her a role-model for women artists. Her commitment to authenticity and acceptance forms the core of her music and public image. "I've always felt like Skipper; I never felt like Barbie," she told Radio. But she has since grown much more comfortable in her own skin and works constantly to bring positivity and acceptance to her fans. "I'm always going to look the way I look ... I'm just me. You have to just accept that and then you can move forward."
SZA has empowered other women in responding to her critics by writing odes to women who she believes are also unique. "Julia," which SZA dedicates to Julia Roberts, is one such song. She tells RedEye, "I think Julia Roberts is one of the most beautiful women ever. She's just awesome and odd-looking ... I think I've always related to that character in life ... that odd one out."
And that's in spite of an industry that wants only to indicate her flaws or fit her into a box. "The fact that I'm a fuller-figured, brown-skinned woman with curly hair now means that I must be striving for Erykah Badu-ism, part two," she told the Huffington Post.
"But I have no desire to be that. As amazing of an artist she is, I don't want to be pigeonholed into the being of someone else or something. I just want to be able to do what I want to do."