Jon Stewart Asked for Viewers' Ideas to Reform CNN, and the Results Are Absolutely Hilarious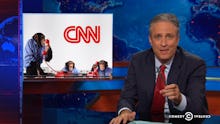 Phase two of the Daily Show's CNN takeover is underway.
After announcing a Kickstarter campaign to buy CNN, host Jon Stewart has turned his attention to programming. The idea stemmed from his interview with Fareed Zakaria last week: "Your program, half an hour ... that's two hours of programming a week," Zakaria said. "CNN has 24 hours times seven, 168 hours."
So what should go in the remaining 166 hours of airtime every week? Stewart announced the hashtags #NewCNNShows, #NewCNNSlogans and #NewCNNTech to let viewers pitch their own ideas for "the most trusted name in news." And viewers obliged.
The results:
The background: While the Daily Show has raised a self-reported $4.34 trillion in its Kickstarter, CNN's for-sale status depends on News Corp. magnate Rupert Murdoch.
Murdoch is in the market for more media properties, and recently offered $80 million for Time Warner. The offer was refused, but Murdoch is still mulling coming back with an even better one.
If Murdoch's purchase were to be approved, it would mean likely mean a sale of CNN — the same person can't run two competing news channels (Fox News and CNN), no matter how much Murdoch might want to. As to where CNN might end up in that situation, it's too early to tell — though maybe Don Lemon's Zesty News Bowl would be just the ratings jolt the network needs.