This Former Child Star Released One of the Year's Best Pop Albums — But Nobody Is Listening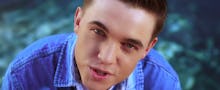 When it comes to male pop stars, a few names quickly come to mind: Justin Timberlake, Bruno Mars, Sam Smith, and even His Creepiness himself, Robin Thicke. One name that probably doesn't come to mind is Jesse McCartney, but it's high time that changed. 
Jesse McCartney was a child star who first broke into the public consciousness on the shows All My Children and Summerland. Last week, the former star released In Technicolor, his sixth studio album and the follow-up to 2008's Departure. It's odd that there wasn't more build-up to it — his last album featured a handful of irresistible Top 40 hits like "Leavin" and "How Do You Sleep?" But a week after the album's release, Nielsen SoundScan reported that In Technicolor had sold a meager 7,846 copies in its first week. It was a huge flop. But that doesn't make any sense because it's a damn good record.
This is the first album where McCartney co-wrote every track, and he did so with a number of pop songwriters, including Hot Chelle Rae's Ryan Follesse and Nash Overstreet; Kylie Minogue/Leona Lewis collaborator Autumn Rowe; and David Quinones, best known as part of the team who wrote Beyonce's "Halo." Released on McCartney's newly-formed Eight0Eight Records (he split with his original label, Hollywood Records), In Technicolor sounds like the work of an artist who's finally found his voice, surrounded with writers who are expert at throwing theirs. 
It's the perfect mix of club bangers and neo soul for 2014. Lead single "Back Together" is like the triumphant return of Earth, Wind and Fire, complete with a falsetto-driven chorus rounded out with a horn section and a seriously funky bass line. "Superbad," which McCartney released as a single after "Back Together" failed to perform, is the illegitimate love child of "She's a Bad Mama Jama (She's Built, She's Stacked)" and "Superfreak." It is a travesty more radio stations aren't playing it; it hasn't even cracked the Billboard Hot 100 yet.
The rest of In Technicolor mines the best elements of funk, soul and pop from the kings of pop stars out there, pulling just as heavily from MJ's Off the Wall as it does early 2010s Drake hits. Michael Jackson's influence, especially, is all over the album, from the "Dirty Diana"-esque vocals on the chorus of "All About Us" to the "The Way You Make Me Feel" inspired beat on "Young Love."
And it perfectly matches its pop lineage with perfect modern pop formulas. "Punch Drunk Recreation," a club banger about the joys of recreational drinking, introduces a little bit of "P.Y.T." to Timberlake's "SexyBack" and Beyonce's "Naughty Girl." "Checkmate," one of the album's only slow, atmospheric tracks, and "In Technicolor Part II" both could have been on Take Care. 
And yet nobody would mention McCartney in the same breath as those stars. Perhaps it's because some feel he's too derivative of Justin Timberlake. That's the album art argument — McCartney in a retro suit against a simple background, much like JT's own "Suit & Tie" aesthetic. But to anyone who's listening, none of this feels like a nod to Justin Timberlake so much as it does McCartney's attempt to position himself as a contender against today's Prince of Pop. And while Jesse's 8,000 is dwarfed by Justin's 2.5 million, his talent isn't. In Technicolor is proof that Jesse McCartney has arrived. It's time we started taking him seriously as a leading man in pop music.