Map Shows Where the Abandoned Immigrant Children Are Finding Temporary Housing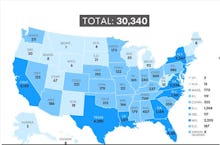 The news: Nearly half a million undocumented children have arrived in the United States since October 2013. For some of them, this map is welcome good news.
Image Credit: Office of Refugee Resettlement via USA Today
Nearly 30,000 immigrant children have been placed within a multitude of U.S. states, though the majority of those children landed in California, Virginia, Texas, Florida and New York. Sponsors or relatives are stepping in for overwhelmed immigration authorities, who have an "urgent humanitarian crisis" on their hands, according to President Obama.
Unless they can be released into the care of a sponsor, parent or relative, these kids stay in government-run shelters while their immigration case is processed.
Image Credits: Los Angeles Times
The background: Anti-immigration advocates have decried the influx of children seeking refuge in the United States, claiming they bring diseases with them and take away American jobs.
In early July, Obama ordered Congress to consider $3.7 billion in supplemental appropriations to deal with "the recent and dramatic rise in illegal migration across our border, from Honduras, El Salvador and Guatemala, [that] presents a major challenge to the United States." Meanwhile, expanding immigration detention facilities remains a hotly debated issue in some communities, where there are concerns about the federal budget's allocation of funds for the unaccompanied children.
The takeaway: Analysts expect the total number of children emigrating from South and Central American countries to rise to 60,000 by the end of 2014. The question of how to handle these children may not yet have bipartisan solutions, but trying to find them adequate housing is a priority. Relatives or sponsors in nearly every state have taken in at least one unaccompanied child, which is a considerable win on a polarizing issue.