This Is the Year That Jazz Reconquers the World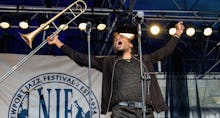 The very first Newport Jazz Festival took place in 1954 and featured legends like Louis Armstrong, Ella Fitzgerald, Count Basie, and Billie Holiday. These artists, combined with slightly later icons like Charlie Parker, Miles Davis, and John Coltrane, generally dominate the public's perception of jazz — a genre, it seems, that came and went along with the speakeasy and calling your friends "cat."
But anyone who cynically showed up 60 years later to the 2014 festival, wistfully remembering the days of yore, would be shocked by the potency and relevance of jazz today — alongside a new age of legends, a new genre has emerged inflected with sounds and styles absent from the 'Golden Era.' In three days last weekend at Fort Adams Park in Newport, Rhode Island, the current titans of America's music flexed their muscles to show that this genre is far from dead. Davis, Monk and Blakey were missing, but Iyer, Blade, Rosenwinkel and Trombone Shorty powerfully filled the void.
Image Credit: Getty
On some level, it was hard not to see the weekend as a passing of the torch. Jazz legends of the past showed up to hordes of adoring fans, many of whom had lived through the players' heydays. It was nigh impossible to get a seat for the bassist Ron Carter, who irrevocably shaped bandmates from Miles Davis to Horace Silver. And festival founder George Wein, at the tender age of 88, gave himself a set with talented pals, as fellow octogenarians swung danced in the aisles.
But this wasn't a nostalgic event. The new idols of contemporary jazz demanded legendary status the way Holiday and Basie did at the very first festival. Most spectacular was Vijay Iyer, a fully-fledged jazz star who was named 2010 Musician of the Year and 2012 Pianist of the Year by the Jazz Journalists Association. Iyer is known for his ambitious cultural cross-pollination and wide scope: he's covered M.I.A. and Michael Jackson, and recently teamed up with Indian musicians Prasanna and Nitin Mitta for 2011's Tirtha. On Sunday at Newport, that stylistic sweep was in full evidence. He combined his influences into a whirlwind of heavy Dilla-esque backbeats, Art Ensemble of Chicago horn squawks and Herbie Hancock funk voicings on his Fender Rhodes. And despite its technical complexity, his challenging and vicious set still managed to appeal on an instinctive, nearly limbic level.
While Iyer was all raging intensity and complexity, drummer Brian Blade favored a slow burn. Listen to parts of his 2014 album, Landmarks, and you might mistake it for Americana. But really, Blade is distilling his music to its most basic elements: small riffs and clear, slow melodies that make for a hypnotic live show. "Ark.La.Tex.," a particular highlight of his set, vividly evoked the swampy feeling of a trip through Blade's home in the American south. Its slow, simmering build arrives at an ecstatic climax that would put any EDM DJ to shame.
And then there was Trombone Shorty, who is less a jazz musician than a New Orleans force of nature. There's no doubt that many academics of the genre would scoff at his cheesy antics and the blustery tone of his trombone. But there are very few performers in the world who can match his overall package: effortless musicianship, singing, dancing and, above all, charisma. Right from the get-go of his set, festivalgoers blatantly disobeyed panicked ushers to dance in front of the stage and scream wildly. His covers, which included Louis Armstrong's "St. James Infirmary Blues," showed his commitment to the history of jazz. But at the same time, he approached the music like a rock star, shattering many of jazz's currently stuffy conventions.
This, then, is what a jazz legend looks like now. Davis is long gone and bebop went with him. But at Newport, the new jazz was in full force as a mesh of American genres and a still vibrant spirit. These three exceptional acts were just the tip of the iceberg last weekend. From the elegant perfectionism of Cecile McLorin Salvant to the spindly melodicism of Kurt Rosenwinkel to the insistent interplay of Gary Burton and his guitarist Julian Lage, the Now generation of jazz made it quite easy to leave the so-called Golden Age behind.