Google Helped Catch a Sex Offender. Why That May Be Bad News for the Rest of Us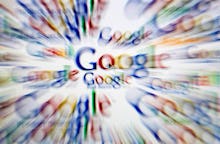 The news: A registered sex offender was caught with the help of something millions of us use every single day: Gmail. The tech giant used their powers of search to scan his private email account, which, while it ended justly this time, raises questions about the future of privacy.
The Houston man, who was charged with the sexual assault of a child in 1994, was apprehended after Google tipped off the National Center for Missing and Exploited Children. According to KHOU, he was caught emailing explicit images of a young girl to a friend.
"I can't see that information, I can't see that photo, but Google can," said David Nettles, a detective with the Houston Metro Internet Crimes Against Children Taskforce.
Image Credit: KHOU
On one hand, Google acted admirably. It and other companies are required to report child pornography when they find it, given the depraved and dangerous nature of the content.  
Child pornography is rampant on the web. Community Oriented Policing Services, a subset of the Department of Justice, estimates that there are more than one million pornographic images of children on the web, with 200 new images added per day. Google is doing its part to stem this.
Image Credit: AP
But on the other hand: Is it really Google's job to keep track of criminal activity? As Robert Gellman, a privacy and information policy consultant, told Mashable, "No one defends child porn, but the principle that an email provider will read mail looking for criminal activities is problematic. It raises concerns over what standards apply and which crimes are included."
It's a slippery slope. A corporate giant shouldn't be playing the part of the police, particularly when it comes to the privacy of its own users. Google says it's only doing this where child pornography is concerned, but it's unclear how or why they're making that distinction. Threats or acts of murder or rape are also serious crimes, yet there seems to be no inclination toward preventing them.
The issue here is not so much that Google is reading your emails — they do that a lot already — but that they are now taking an active role in law enforcement.
Gellman rightly argued that the U.S. Postal Service is not allowed to open first class letters of its patrons. Why, then, should Google be treated differently? Each has a responsibility to provide a reasonable expectation to privacy to its customers.
The future is at stake: Capturing a sex offender is without a doubt a good thing. But that doesn't mean we also can't take this as an opportunity to examine an increasingly prevalent issue: Internet privacy.
It's reasonable to argue that, at the very least, there should be a greater degree of specificity where Google, email and crime is concerned. Canada, for example, is already taking steps to ensure this and avoid this.
"What's needed here is clearer rules and better defined notices and expectations," Gellman told Mashable. "Once you start reading someone's email, you can find yourself in a difficult position."