27 Artists Brilliantly Reimagine the World's First Asian-American Superhero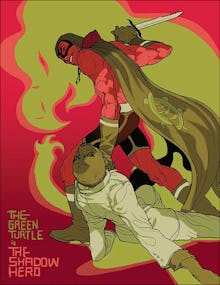 Meet "the Green Turtle."
Image Credit: Jason Caffoe
Not the toughest name for a crime fighter, plus his costume leaves little to the imagination:
Image Credit: Jonathan Hill
But make no mistake: The man will hurt you.
Image Credit: Box Brown
And according to Angry Asian Man, he's the first Asian-American superhero in the history of global comics, first debuting in Blazing Comics in 1944.
Background: The Turtle now appears in The Shadow Hero, a new graphic novel by Gene Luen Yang and Sonny Liew.
Its publication has also inspired promotional art from 27 commissioned illustrators, which Angry Asian Man compiled as a list. The results are nothing short of glorious:
Image Credit: Tropical Toxic
Image Credit: Chris Schweizer
Image Credit: Robb Mommaerts
The legend: Author Gene Yang tells of the character's genesis on his website:
According to his account, a small publishing company called Rural Home enlisted Chu Hing, a Chinese-American artist, to create a new superhero in 1944. The result was the Green Turtle, a masked crime fighter who stalked the streets of Chinatown in the 1930s.
Image Credit: Steve Lieber
There was just one problem: Hing wanted the hero to be Chinese-American. The publisher wanted him white.
Image Credit: Dan Santat
So, in a clever act of defiance, Hing responded by rendering the Turtle with his face hidden as often as possible – thus enabling him to "imagine his hero as he originally intended, as a Chinese American":
Image Credit: Comics Alliance
The comic was canceled shortly thereafter.
Image Credit: Fabio Moon
But: Those trademark calf-boots and spandex undies were unleashed once more on an unsuspecting public on July 15.
The fact that the Turtle was never given a "proper origin story" left his character open to interpretation. The Shadow Hero colorfully reimagines him as Hank Chu, a young Chinese-American who "wants nothing more than to work in his family's grocery store" but whose mother "has more ambitious plans" for him, according to Yang.
Image Credit: Paolo Rivera
At its core, the author says, The Shadow Hero is really about the immigrant experience in America:
"Take at look at Superman," he writes. "His parents sent him to America in search of a better life. He had two names, one American (Clark Kent) and the other foreign (Kal-El). He wears two sets of clothes and lives in between two cultures. He loves his new home, but a part of him longs for his old one."
Image Credit: Greg Ruth
It's a story as old as comic books themselves.
Image Credit: Kazu Kibuishi
And paired with Muslim heroine Kamala Khan's introduction to the Marvel universe, fans should take heart that the Green Turtle has been resurrected to inspire a new and more diverse generation of readers.
Image Credit: Roger Langridge
Image Credit: Thien Pham
Image Credit: George O'Connor
Image Credit: Leland Myrick
Image Credit: MK Reed
Image Credit: Lark Pien
Image Credit: James Kochalka
Image Credit: Derek Kirk Kim
Image Credit: Chris Giarrusso
Image Credit: Faith Erin Hicks
Image Credit: Jeffrey Brown
Image Credit: Ben Hatke