Nicki Minaj Has Unseated Beyoncé as the Queen of Pop Music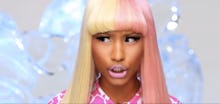 After a period of relative silence, Nicki Minaj has swept into 2014 to claim the throne of popular music. And Beyoncé, largely agreed to be queen of all things pop, has let her do it.
Since winning her fifth consecutive title as Female Hip Hop Artist of the year at the BET Awards, Minaj has been owning the spotlight. It all came to a head this past week: Her feature on Jessie J's "Bang Bang" quickly set the record for second-largest first week download count of 2014, and was such a big deal that she had to push back the release of her hotly anticipated single "Anaconda" so people would have the bandwidth to talk about it. Billboard pronounced her "the hottest female MC on the planet, and that was before "Anaconda" sealed the deal.
But none of that crowned her pop's new queen. What most people have missed about Minaj's big week was the moment Beyoncé stepped down.
"Anaconda" came out last Monday and blew everybody's mind, and by Thursday she was back with the release of Juicy J's "Low," where, as Spin put it, Minaj "pull[ed] the rug out from under Juicy J on his song." On Tuesday, she released "True Colors" with Wiz Khalifa. It's impossible to miss her blazing star — Minaj seems to have her hands in every part of pop music.
Compared to all that, the remix of "***Flawless" was relatively minor for Minaj. But it was the biggest musical event to happen for rumor-plagued Beyoncé in a while. It's evident that she knows her star is falling in the fickle public sphere because she's relying on another star's power — something she never does. Besides being featured on former Destiny's Child bandmate Kelly Rowland's "You Changed," this was the first time Beyoncé collaborated with a female artist since working with Mary J. Blige in 2011. That barely counts, because Blige is an influence who poses essentially no threat to Bey.
This is the first time she's acknowledged that she might not be top of the heap any longer.
When Minaj came into the studio, Beyoncé told her, "I want you to be you — I don't want you to hold back," and Minaj didn't. She proved her dominance, steamrolling her competition with lines like "Tell 'em winning is motherfucking protocol / Because I score before I even throw the ball" and "These bitches washed up and there no fucking soap involved." Lil' Kim was so intimidated that the next day she released her own remix of the remix, awkwardly tacking on a verse at the end dissing Minaj and her career. Beyoncé must have had a similar moment when Minaj was more celebrated for the remix than she.
To some degree, that's just the natural order of things. In 2011, Rolling Stone analyzed industry numbers, which cemented the last decade as an era of "female dominance." That's because even though they aren't always best represented, women are always at the top of the music industry — just look at the Forbes list of highest-paid musicians. For a few years, that's meant the reign of Queen Bey. But this month, with an "Anaconda" video and her Pink Print album yet to come, Minaj has already taken the crown for herself.