One Music Festival Has Finally Done What Nobody Else Will About R. Kelly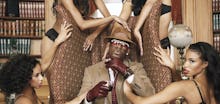 A small music festival in Columbus, Ohio, is the first to take a real stand on R. Kelly's history of sexual abuse. It's about time.
Kelly has been hitting the festival circuit hard over the past two years. He headlined the Pitchfork Music Festival, played Bonnaroo, performed alongside Phoenix at Coachella and joined Chance the Rapper just last weekend at Lollapalooza. And at every stop he's lauded and beloved — almost as if he didn't videotape himself raping and peeing on a 14-year-old girl, or marry a 15-year-old Aaliyah, or refute accusations that he had sex with a minor and then forced her to have an abortion, or get arrested in Miami for 12 counts of child pornography. After all, he's the world's greatest, right?
But the singer, known for hits like "Ignition (Remix)" and "I Believe I Can Fly," won't be welcome at Columbus' Fashion Meets Music Festival, which will also feature artists like O.A.R., Local Natives and Michelle Williams. Last week, the festival organizers released a joint statement with Kelly announcing the "mutual decision to cancel Kelly's upcoming performance."
The statement about Kelly's cancellation came after a handful of local artists raised concerns about his booking. Columbus electro-pop duo Damn the Witch Siren released a powerful statement on their website, saying, "We are asking Columbus, and society as a whole, to WAKE UP AND STOP IGNORING THE SERIOUS PROBLEM OUR CULTURE HAS WITH GLAMORIZING PREDATORY MEN AND IGNORING THE VICTIMIZATION OF WOMEN." They requested that others join them in asking FMMF organizers to "reconsider having R. Kelly be a part of this otherwise excellent festival," and then eventually dropped off the bill themselves, not willing to be seen as supporting R. Kelly in any way.
Another Columbus band, Saintseneca, followed suit, stating that by selecting R. Kelly as the headliner, the organizers of FMMF were ignoring "his very serious allegations of sexual violence and assault." Local radio station WCBE also withdrew its sponsorship of the festival. The people of Columbus refused to be associated with R. Kelly's misdeeds, and that's an example the nation should follow.
Though one of FMMF's cofounders told a local Columbus newspaper that there hadn't even been a debate about Kelly's booking, the organizers changed their mind when the passionate Columbus music community took action and pointed out that Kelly stands completely against the aims of the festival: to celebrate the "inspiring, passionate and creative energy of Columbus."
That's an important standard to hold because we, as a society, have let Kelly off the hook for too long. We all need to see this issue for what it is. Kelly has been accused of terrible things, from statutory rape to child pornography to emotional abuse. He was found not guilty of the child pornography charges in 2008, but, as music journalist Jim DeRogatis writes, "[As] any criminal attorney will tell you, 'not guilty' does not mean 'innocent.'"
Kelly's lifestyle and the allegations against him should inspire debate at any festival or concert venue that considers booking him, especially when so many of his songs celebrate his own sexual prowess. As pop music journalist Lorraine Ali told DeRogatis, "Not only has he gotten this pass, he's actually become more famous for it." That's something that any responsible citizen has to fight against. As music lovers — and as citizens — it's our responsibility.