Soccer Is Finally Catching Up to Football in One Important Way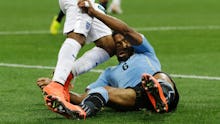 Last November's Premier League match between Tottenham and Everton isn't memorable for a spectacular goal, a bone-headed referee decision or a fantastic save. Instead, fans of the clubs will recall the match at Goodison Park as the "Hugo Lloris game" — the day Tottenham's goalkeeper clearly suffered a head injury, yet was allowed to return to the pitch and finish the game. 
Tottenham manager Andre Villas-Boas' decision to override the recommendation of team's doctor and send the willing Lloris back into the fray was widely criticized, and rightly so: A second injury to Lloris could have been catastrophic. Fortunately, a similarly brazen approach to player safety is unlikely to occur in another Premier League match. 
On Monday, England's Football Association took the power to send a possibly concussed back onto the field out of the manager's hands. Team doctors will now get the final say, with the doctors to be assisted by independent "tunnel doctors" who have been specially trained in recognizing the signs of concussions.  
Players who have been suspected to have suffered a head injury will now undergo a mandatory examination off the field and will be forced to follow the doctors' orders, regardless of how much the player may wish to return to the field.
And the FA isn''t stopping there: it will employ a doctor to focus on concussion research and will launch a public campaign to educate players and coaches at all levels of the game. The athletes will also undergo neurological assessment prior to each season, so as to aid in a player''s recovery from a possible future head injury.
These are long-overdue changes by the governing body of the world's most popular sports league. Even the NFL, whose purported neglect of the concussion issue has prompted widespread criticism, formalized similar procedures when it overhauled the league's concussion policy in November 2009 — measures encouraged in no small part by the House Judiciary Committee.
This summer the global audience saw just how ill-prepared FIFA was to handle head injuries amongst World Cup players. On three occasions, players in Brazil who had suffered clear head injuries were allowed to continue to play.
Germany's Christoph Kramer, who suffered a head injury and yet continued to play for 14 minutes during the final against Argentina, later said he hardly remembered anything from his time on the field. Uruguay's Alvaro Pereira, the most memorably defiant of his doctor's recommendation, would go on to apologize after seeing the replay of his head crashing into the knee of an opponent.
"It was a moment of madness," Pereira said in retrospect.
It was also, the FA has realized, entirely preventable.