This Man's Model Shot Is Going Viral Thanks to a Very Unusual Accesssory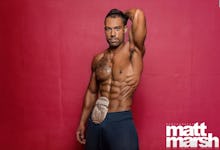 There was a time when Blake Beckford had to chain himself to the restroom because he needed to use it more than 15 times a day. His body became so weak he ended up losing more than 42 pounds and was bedridden for stretches lasting up to six weeks. Today, Beckford is taking an inspirational stand for all those who, like him, have had to suffer in silence.
Diagnosed with ulcerative colitis, a chronic bowel disease, at age 21, Beckford, now 33, endured pain and other symptoms for more than 10 years until eventually he was forced to have his colon removed. That surgery gave him a second shot at a normal life, but it also gave him a permanent colostomy bag.
"I really worked myself up and I know many people do — 'What will people think? What if people stare at me?'" Beckford told TODAY. "Then I thought, I'm embracing this. This is me. This bag gave me my life back. I am proud of me."
Beckford is fighting back against ulcerative colitis as well as the stigma surrounding all those — like him — who use colostomy bags on a daily basis. The British fitness buff's very public campaign has spawned international attention. Beckford has already started a website and launched a #FightWithBlake social media campaign to help raise awareness and money for more research around Crohn's disease and ulcerative colitis.
Image Credit: Blake Beckford
By posing shirtless and revealing his colostomy bag, Beckford has become the newest face of chronic bowel disease. What started as a personal fight to regain his strength after a punishing stretch of hospital visits and surgeries has turned into a show of solidarity. The process of learning to live with the colonoscopy bag isn't an easy one, but no one should have to suffer in silence the way he did.
"For anyone suffering with IBD, surgery can be a daunting prospect," Beckford writes on his blog. "I remember for many years during flare ups saying things like I would rather die than have surgery this is because society can make you feel that you will be unattractive, that its something that old people have, it smells and it's not normal. 
Indeed, this message is resonating with people all over the world who are using the campaign to share their own stories.
"I am determined to show people and society that having a stoma doesn't change who you are and it doesn't mean you're not normal," Beckford wrote.
Beckford's story shares similarities with that of Bethany Townsend, who became an online sensation earlier this summer after sharing bikini photos of her with a colostomy bag. New York model Jess Grossman has also posed regularly with her colostomy bags for Uncover Ostomy, a nonprofit initiative she co-founded in 2009 to fight stereotypes and encourage positive stories of IBD patients.
While it certainly doesn't hurt that many of these individuals are traditionally attractive, there can be no doubt that this latest trend is bringing renewed attention to a very serious disease, while at the same time encouraging sufferers around the world to live free of shame.