The New Trailer for the Stephen Hawking Biopic Will Bring Tears to Your Eyes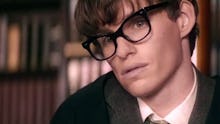 We're flush with trailers for Oscar contenders lately, but no film screams awards season as much as The Theory of Everything. The newest Stephen Hawking biopic (Benedict Cumberbatch portrayed the acclaimed theoretical physicist in 2004) looks to have acting power in spades: Les Mis star Eddie Redmayne plays the physicist with progressively worsening motor neurone disease, English thesp Felicity Jones as his wife tries to keep a stiff upper lip, and David Thewlis channels Remus Lupin again as a wise academic mentor. 
The Theory of Everything follows Hawking from his first moments at Cambridge University, to meeting his wife Jane, to composing his early brilliant thesis and wrestling with his slow physical decline.
So far Jones' Jane Wilde seems to have little to do outside of supporting Hawking, but hopefully the movie will give Jones as much to explore as Redmayne, who seems to have landed the world's most award-baiting role. If the final cut is half as moving as the trailer, we have a knockout drama in store.
The Theory of Everything will be released Nov. 7.