Here's What It Would Look Like if Disney Characters Came Out of the Closet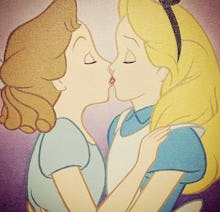 You've never seen Disney characters quite like this. 
The iconic childhood heroes and villains have been reimagined in a variety of ways, but the subversiveness of artist Jose Rodolfo Loaiza's renderings in particular stays with the viewer. Rodolfo paints his characters in a variety of risqué scenarios, more than one of which is the opposite of childhood innocence. From Minnie Mouse taking bong hits to Cinderella giving her stepmother the finger, these illustrations have been going viral recently for good reason.
Perhaps the most interesting juxtapositions in Rodolfo's collection are the many pieces that pair up Disney characters in same-gender relationships, with a nod to LGBT culture. The LGBT pieces portray same-sex marriages, some same-gendered kisses, The Little Mermaid's Ursula as renowned drag queen Divine and sexually explicit scenarios (who knew Prince Eric was into S&M?).
Loaiza's LGBT portrayal of Disney characters is perhaps especially defiant, as there has long been a significant lack of LGBT representation in Disney films and television. The multimillion-dollar media group has been extremely slow to incorporate openly LGBT characters in their films, despite growing critiques by their viewers. While many have pointed to Disney's Frozen as having LGBT subtext, Disney has kept their happily ever after storylines exclusively heteronormative, lacking the diversity of real present-day families.
But while "Disney teaches us that heterosexual love, particularly as expressed through the prized heterosexual kiss, is fantastical, transformational and sublime," Renee Davidson notes at Salon, "Disney cartoons teach us that the opposite is true when it comes to the queer kiss. Far from breaking spells and sparking fireworks, signs of queer sexuality generate only ridicule and disgust. When Timon and Pumbaa accidentally touch lips in The Lion King, both immediately appear stunned, horrified and even queasy."
This isn't to say Disney ignores LGBT dollars. ABC Family currently features the gay-friendly family drama The Fosters and the Disney parks have hosted annual "Gay Days" celebration for years. So what's the hold-up?
Where Disney fails, Rodolfo's artwork provides in abundance, showing a plethora of LGBT characters. Disney is no stranger to having their iconic characters remixed for political statements. Artist Saint Hoax has even used the cartoons as the basis for a series of PSAs tackling topics against incestuous rape and domestic violence. 
"I think it's time to stop being afraid and to speak without hesitation about certain taboo subjects," Rodolfo told the Huffington Post.
The artist is currently showing his work in an exhibition titled "Profanity Pop" at the La Luz de Jesus gallery in Los Angeles. The exhibition runs through Aug. 31. 
Image Credit (all): Jose Rodolfo Loaiza
h/t Queerty