Heartbreaking Videos Capture the Humanitarian Tragedy Unfolding in Iraq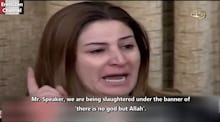 President Obama announced on Thursday evening that he had authorized the U.S. military to use force in order to prevent a "genocide" in Iraq. Despite disagreement over whether this is the right course of action, there's no denying that Iraq is facing a humanitarian disaster.
1. Yazidi MP breaks down in Iraq's Parliament: "We are being butchered."
Iraqi Kurdish MP Vian Dakhil, a member of the Yazidi faith, delivered an emotional appeal on the floor of the Iraqi Parliament on Aug. 5. Militants are "exterminating my people," she said. "We are being butchered."
2. Thousands of Iraqis flee the Sinjar mountains.
According to UN officials in the Kurdistan Region of Iraq, at least 45,000 Iraqis, including Arabs, Christians and minority Yazidis, Shabak, Shia Turkmen and others, have fled into the region since Sunday to escape armed groups that took over Sinjar and two other communities. Many have left relatives behind, trapped in the mountains outside Sinjar, where reports suggest 30,000 people are unable to escape.
The video above, published on Aug. 8, reports on the current living conditions for some of these displaced people.
3. Iraqi troops deliver humanitarian aid to Yazidis trapped in Sinjar.
This Associated Press video, published on Aug. 8, shows Iraqi army troops delivering humanitarian aid to thousands of members of the Yazidi minority trapped in the Sinjar mountains. 
4. Kurdish militia members move trapped Yazidis from Sinjar
The Kurdish People's Protection Unit (YPG) helped thousands Yazidis flee out of hiding on Sinjar Mountain. 
According to Yahoo, "the Yazidis were taken to Mahmur refugee camp near to the Kurdish town of Derik in Rojava, where they could be provided with necessary food and medicine. According to reports, hundreds of the evacuated Yazidi population joined the Kurdish ranks to return and fight Islamic State militants."
Editors Note: Mar. 3, 2015 
An earlier version of this article failed to cite a passage from Yahoo in accordance with Mic editorial standards. The article has been updated to properly attribute the language to Yahoo.