Here's Why Ebola Is Everyone's Problem Now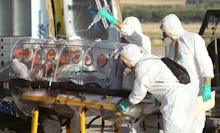 More bad news: The World Health Organization has declared the current Ebola outbreak an "international health emergency."
The deadly virus has killed 932 people in Guinea, Sierra Leone, Liberia and Nigeria since March, with more than 1,700 cases reported. A "coordinated global effort" is now considered "essential" to stopping its worldwide spread, according to CNN. But Ken Isaacs of Christian aid group, Samaritan's Purse, adds the international response to the crisis thus far has been "a failure."
Image Credit: AP
More: "The Ebola crisis we are now facing is not a surprise to us at Samaritan's Purse, but it took two Americans getting the disease in order for the international community and the United States to take serious notice of the largest outbreak of the disease in history," Isaacs told CNN, referring to the two aid workers currently recieving treatment for Ebola at Emory University Hospital in Atlanta.
Image Credit: AFP vis Russia Today
Ebola is everyone's problem now. In a separate Congressional hearing, Centers for Disease Control and Prevention Director Tom Frieden called Ebola's appearance in the U.S. "inevitable."
The swift isolation of infected parties should make for a successful containment, but rest assured that we haven't seen the last of it yet.
"We are all connected," Friedan said, "and inevitably there will be travelers, American citizens and others who go from these three countries – or from Lagos if it doesn't get it under control – and are here with symptoms."
Though he expresses confidence that "there will not be a large Ebola outbreak in the U.S.," he concedes that halting the virus "won't be quick, and it won't be easy."
Where do we go from here? Most of the battle will be fought on the ground in the West African nations where the epidemic first began. While doctors and officials in afflicted countries have taken measures to stem Ebola's spread, emphasis is now shifting toward global cooperation.
Image Credit: Associated Press
This is out of necessity due to a lack of resources, according to Liberian President Ellen Johnson Sirleaf. "The scope and scale of the epidemic ... now exceed the capacity and statutory responsibility of any one government agency or ministry," she said in a statement.
Since Liberian-American plane passenger Patrick Sawyer died of the virus in Lagos, Nigeria on July 25, the screening process for travelers in and out of the region has also intensified.
Image Credit: Associated Press
To illustrate this in practice, Reddit user punture uploaded this image claiming to show how flight attendants in the surrounding West African nations are now dressing to protect themselves.
Image Credit: Reddit
But don't panic. Easier said than done, obviously. This Ebola outbreak is highly serious, but visions of a Contagion-style global pandemic are greatly exaggerated. 
Kent State University Epidemiology professor and Mic contributor Tara Smith reminds us that "hysteria" and misinformation are hurting more than they're helping.
"Ebola is an undeniably scary infection," she writes. But considering the ephemeral nature of past outbreaks, the likelihood of a global epidemic remains slim. When all's said and done, "[the] outbreak in West Africa will eventually burn out and the virus will retreat once again into the forest," she concludes.
Image Credit: Bloomberg
Meanwhile, the death toll in West Africa rises unabated — a grim reminder that despite our relative safety and access to first-rate health resources in the U.S., those who have truly suffered from this outbreak continue to do so with no end in sight.