The Deadliest Ebola Outbreak in History Just Took a Terrifying Turn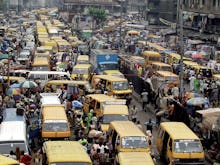 Bad news, world: The deadliest Ebola outbreak in history just became your personal problem.
Reports now say that on July 24, a Liberian man named Patrick Sawyer tested positive for the lethal virus — in the city of Lagos, Nigeria.
Image Credit: Mob 76 Outlook
This is a major development. Until Sawyer's death, the 660 Ebola fatalities recorded in 2014 were confined to three West African nations: Guinea, Liberia and Sierra Leone.
Image Credit: Quartz
Now that the virus has spread to Nigeria, its global consequences could prove devastating.
A primer on Lagos: First off, it's huge.
The largest city in Africa, this densely populated metro houses 21 million people at a concentration of 53,000 citizens per square mile. It's also a major international hub, with at least 7.1 million passengers passing through Murtala Muhammed International Airport every year.
Image Credit: AP
According to the Nigerian Tribune, Sawyer's was the first Ebola case ever recorded in the country. But it might not be the last: Quartz reports that — due to the city's density and poor health infrastructure — the virus' appearance here sharply increases its likelihood of spreading to the rest of the world.
It gets worse: When Patrick Sawyer started having symptoms, he was on the three-hour flight from the Liberian capitol of Monrovia to Lagos.
After a lengthy bout of vomiting and diarrhea, he turned himself in to Nigerian authorities for quarantine. There's just one problem: None of the other 100 or so passengers were detained. This means up to 100 people are walking around Lagos as we speak, unwittingly hosting a virus with a 90% fatality rate.
Image Credit: AP
A frantic manhunt is currently underway to track down the remaining passengers, according to Quartz. Only in the days since have Nigerian health authorities started screening incoming travelers for Ebola.
What does the virus look like? Anyone who read The Hot Zone for biology class can tell you it's an ugly way to die.
Ebola victims typically exhibit flu-like symptoms at first, which makes it incredibly difficult to detect. It's often mistaken for malaria or typhoid, but from there, all hell breaks loose: Headaches, fever and stomach pain devolve into vomiting, diarrhea and bleeding from the mucous membranes, climaxing with massive boils on the skin and an eventual shutdown of the internal organs.
The virus spreads when victims "spew" blood or phlegm into the cuts or mucous membranes of its next host. You read that correctly.
Background: The battle to contain it thus far has been arduous.
Since March, doctors and aid workers have worked tirelessly to stop Ebola from spreading throughout the continent, even as it wreaked havoc throughout the region. In the four months before Sawyer, at least 1,100 people in the aforementioned nations had contracted the virus, including 100 health workers, 50 of which have died.
Image Credit: Quartz
But Guinea, Liberia and Sierra Leone are largely rural, meaning the outbreak has been slightly easier to contain, according to Quartz. Nigeria is a different story altogether. And the rest of the continent, and by extension, the world, may depend on how well Lagos can keep the virus from spreading.