The 500-Seat Reason Charli XCX Is the Most Underrated Artist in Pop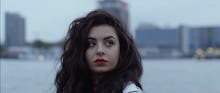 Last month, English pop singer Charlotte Aitchison — better known as Charli XCX, who sings the chorus to Iggy Azalea's "Fancy" — announced a 20-date tour spanning most of America's major concert markets. The timing of the tour makes sense, seeing as Aitchison's been teasing a follow-up to 2013's True Romance for months. It also makes sense given the breakout success of her preposterously catchy single, "Boom Clap," which recently broke into the top 10 of Billboard's Hot 100.
What doesn't make sense is the size of the venues she's playing.
When the 22-year-old dark-pop starlet comes through Chicago, for instance, she'll stop at the 500-seat Lincoln Hall. It's a good venue — beautiful and new, lodged dead-center in one of the city's liveliest neighborhoods. But it's almost ludicrously tiny for a pop star. Five days later, when Iggy Azalea raps "Fancy" over in Normal, IL, she'll play to the 3,457 seats at the Braden Auditorium.
That might be more reasonable if Charli XCX were only famous for the "Fancy" hook, but that's far from all she's accomplished. On top of rendering this year's song of the summer infinitely loopable, Aitchison wrote last year's song of the summer (Icona Pop's "I Love It"), helped pen the song that recently made Ryn Weaver Internet famous, and nabbed Pitchfork's coveted "Best New Music" tag for her 2013 debut, True Romance. But when Charli XCX takes the stage in Chicago, she'll share it with Surfer Blood, Foxygen, and John Darnielle of the Mountain Goast — in conversation about his new novel. Meanwhile, Iggy Azalea is undeniably the star of her own show.
A knee-jerk explanation for Aitchison's micro-tour is that her agent booked it before she blew up. It happens all the time. But given that "Fancy" ended its seven-week reign over Billboard slot No. 1 less than a month ago (after 18 total weeks on the chart), that's probably not the case.
It's more likely that Aitchison's camp booked her for low-risk venues out of fear for weak demand. And while that may sounds crazy for an artist who's chasing seven weeks atop the Billboard 100 with her own rising hit, they may be right. 
Last year when Charli XCX announced a series of North American dates behind True Romance, they were for equally small clubs, and she ended up canceling them to tour the U.K. in support of Paramore. When the shows were later rescheduled, some got moved to even smaller rooms. In Chicago's case, Aitchison downgraded from Lincoln Hall to a double-show at the 165-seat Schubas Tavern — a total of only 330 tickets. Granted, this was pre-Iggy and pre-"Boom Clap," but it was post-"I Love It" — which was ubiquitous to say the least. Aitchison is forever a supporting act despite being one of the most forceful hit-makers in recent memory.
As for the reason behind the weak draw, it's anybody's guess. Maybe it's just early in her career. Maybe it's her flair for the murky. Maybe it's because she resembles Helena Bonham Carter more closely than Barbie. Maybe it's the product of fame via guest spots — after all, the chunk of Americans who'd pay to not hear "Fancy" (ever, ever again) probably still outweighs the chunk that would.
But more likely this is a definitive sign of changing times. We've reached a point where FM success isn't just unnecessary for stardom, but where it no longer guarantees it. Because nothing guarantees success in this music market.
So if Charli XCX is coming through your town this fall, now's the time to grab a ticket. Should her sophomore LP turn out to be the break-out success she deserves, you'll be a basketball court's length away the next time she comes around.