Robin Williams' First 'Tonight Show' Appearance Was the Comedian at His Best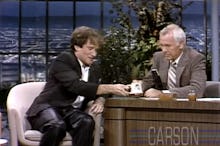 The world lost a comedic legend on Monday, when it was reported that veteran actor and comic Robin Williams died of an apparent suicide at age 63. While Williams had struggled with depression, the loss came as a shock to both the Hollywood community and the public. But the immediate outpouring reflected just how beloved Williams was — for his serious acting chops, his endlessly entertaining wit and his zany yet down-to-earth manner that made us all feel so close to him.
Nowhere are these qualities on display more than in Williams' first appearance on "The Tonight Show Starring Johnny Carson," on Oct. 14, 1981. The physical comedy, the fearless voices, the self-deprecation — the Robin Williams we remember today was in fine form. As the star said himself: "You're only given a little spark of madness. And if you lose that, you're nothing." 
Williams never lost it once. Check out the clip below, and read more about Williams' recent passing here.
Need help? In the U.S., call 1-800-273-8255 for the National Suicide Prevention Lifeline.